Backstage Live Stream at the Critics' Choice Movie Awards
Join POPSUGAR and Google+ Backstage at the Critics' Choice Awards!
We've partnered with Google+ to bring you the ultimate backstage experience! We are so excited to be bringing you our LIVE Google+ Hangout backstage at the Critics' Choice Awards. You'll get a behind-the-scenes look as we chat with the night's winners after they've accepted their awards. Plus, we will be joined on our Google+ Hangout by our in-studio team and a panel of fashion, celebrity, and movie experts, including members of the Broadcast Film Critics Association, to discuss the award show's most memorable moments, red carpet highlights, and more!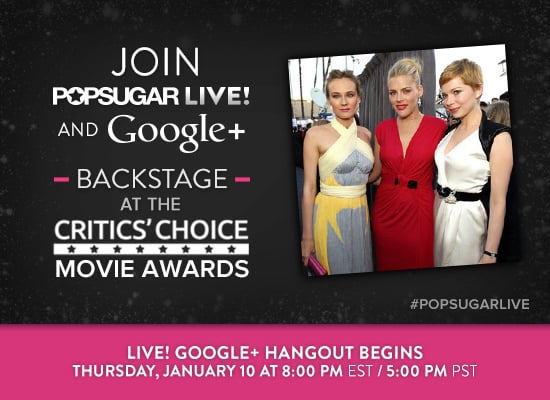 Our LIVE backstage Google+ Hangout starts at 8:00 p.m. EST/5:00 p.m. PST! Join us!