Backstreet Boys "Everybody" GIFs
Throwback Thursday: Relive the Backstreet Boys' Spooky Video
Halloween happens to coincide with Throwback Thursday this year, and we're going way, way back. While it's true that boy bands have been around for decades and decades, the music industry hit a sort of boy band golden age in the '90s, with a ton of competing groups including Boyz II Men, *NSYNC, 98 Degrees, and of course, the Backstreet Boys. Today, we're reveling in the glory of the Backstreet Boys' spooky, Halloween-themed music video, "Everybody (Backstreet's Back)." Relive the best moments from the music video in GIFs, and if you're really feeling nostalgic, you can watch the full video at the end.


Meet the Mummy Who Keeps His Swag "Under Wraps"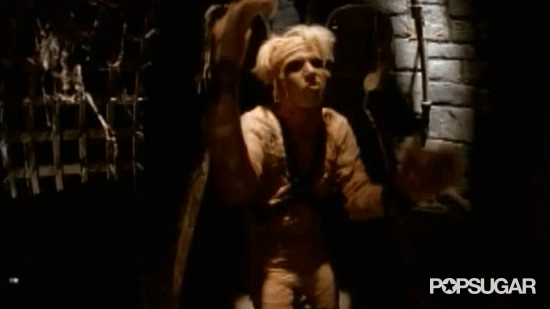 The Phantom of the Opera? A Really Bizarre Terminator?
Introducing the Most Pimped Out Werewolf Ever
This Girl Looks Way Too Excited Given the Circumstances
Is There Something on My Face?



Check out the rest of our GIFs plus the video after the jump!
Channeling Some
Michael Jackson

Realness
Apparently Mummies Do Excellent Body Rolls
We Don't Even Know What This Dance Move Is
Gotta Love That Gratuitous Open-Shirt Look
"Get Away! I'm Hideous!"
Seriously Though This Mummy Has so Much Swag
Let's Discuss This Intense '90s Hair
This Girl Still Needs to Work On Reacting to Things
The Classic Group Dance Grand Finale



Now we just want to play this on loop for the rest of forever: