Bar Refaeli Sports Illustrated Swimsuit Issue Cover Photos, Bar Refaeli Bikini Photos
Refaeli Raises the Bar as SI Swimsuit Issue Cover Girl!
Your hottest bikini body of 2008 is the Sports Illustrated swimsuit issue cover girl of 2009 — Bar Refaeli! Leonardo DiCaprio was supposedly gunning for his girl to land the top spot, though considering how hot she is, we doubt she needed any help from him. The gorgeous Israeli was photographed on Canouan Island in the Grenadines showing off her amazing physique in all sorts of bikinis . . . or lack thereof. Bar had a chance to share her excitement with People: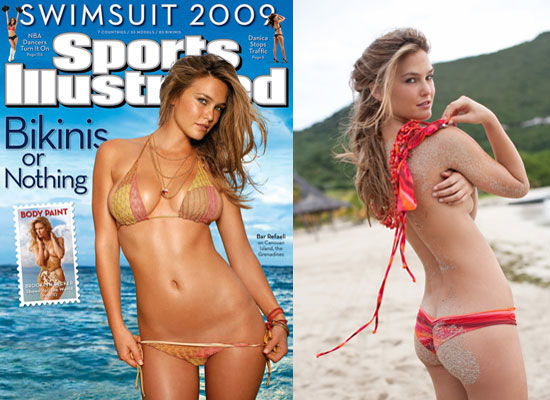 What will your grandparents say about your sexy photo spread?
Refaeli: They are so proud! My grandma says she walks down the street and people ask her, 'Are you Bar Refaeli's grandmother?' I'm like, dude – I mean, you're very beautiful, but we don't really look alike! We have 60 years between us. She's so proud. She keeps every single article on me.

Do you think Leo will like the cover?
Refaeli: I don't know. I really, really love it. I'm sure people will, too.

Are you two happy together?
Refaeli: I am very happy!

So how will you celebrate?
Refaeli: I am having champagne as we speak!
There are tons of photos of Bar and all the other swimsuit models who simultaneously make us want to book a vacation and hit the gym. Now lucky Leo gets to see his girl plastered all over the newsstands — not to mention on a billboard in NYC — everywhere he goes to remind him how great he's got it.
To see more of Bar's shoot just read more.