Bar Talks About Dating Leo and Their Six-Month Split 2010-03-25 12:00:00
Bar Talks About Dating Leo and Their Six-Month Split — Sweet or Contradictory?
Leonardo DiCaprio and Bar Refaeli have one of Hollywood's most private relationships, but she opened up about their romance in a recent interview. She revealed what really happened during their six-month split, and even addressed the persistent engagement rumors. She said: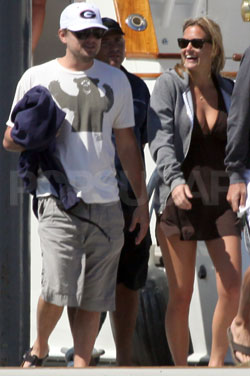 On their six-month break: "It was a half year for which I am very grateful. I needed it. I came to understand a lot of things about myself. . . I worked on myself [and] I grew up. I didn't know what 'alone' was like. Today I know that a relationship can work only if you know you can be alone and you are not afraid. Today I'm not afraid of being alone."
On the engagement rumors: "I'm not thinking about getting married. I'm still young, not yet 25."
On no PDAs at basketball games: "No one needs to know how we kiss."
On skipping the red carpet: "I am there for him and I am at all the events. . . I just don't walk in hand-in-hand with him. I don't see any reason. I don't need to strike poses with him in front of the cameras."
It's interesting that Bar's happy to talk about Leo, yet she still chooses to keep certain things about their relationship to herself. It's one of the only peeks we've had inside her long history with Leo, so tell us what you think about her comments — are they sweet or strange?