Beautiful and Influential People Get Together in NYC
The honorees on this year's Time Magazine 100 Most Influential People list came together last night to celebrate at the Lincoln Center in NYC. Some of the fantastic ladies who made the cut — like MIA, Michelle Obama, and Stella McCartney — all hit the red carpet and took the podium to celebrate. For the second night in a row, Stella brought good friends Kate Hudson and Liv Tyler to the event. Obama posed with Oprah while Claire Danes had her fiancé Hugh Dancy by her side. Neither Zac Efron nor Brad Pitt made it to the party, but Jimmy Fallon was still able to keep the crowd entertained when he took the stage.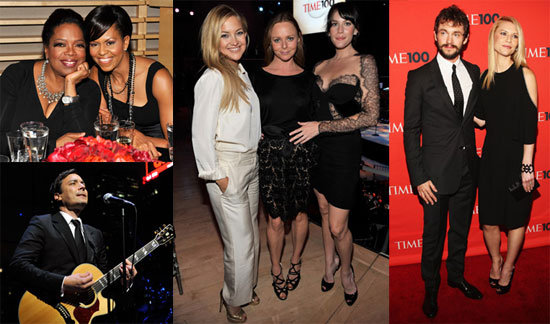 To see more from the party, including John Legend, Judd Apatow, Whoopi Goldberg, Nancy Juvonen, and lots of others, just read more.
Images include: Claire Danes, Barbara Walters, Diane Sawyer, Elisabeth Hasselbeck, Hugh Dancy, Jimmy Fallon, John Legend, Judd Apatow, Kate Hudson, Leslie Mann, Liv Tyler, MIA, Sherri Shepherd, Stella McCartney, Suze Orman, Whoopi Goldberg, Nancy Juvonen, Jon Favreau, Oprah Winfrey, Michelle Obama, Arianna Huffington, Joy Behar, Gayle King, Patricia Clarkson