Beckhams at the LA Kings Hockey Game 2013
Harper Beckham, Ultimate Baby Sports Fan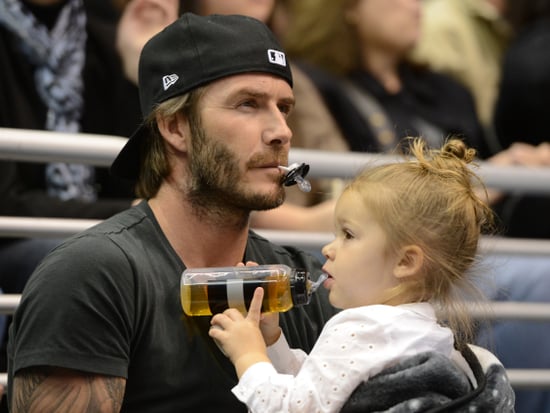 The Beckham family sat front row for a hockey game in LA on Monday, with David Beckham holding onto little Harper and her pacifier as the Kings played the Calgary Flames. He and his wife, Victoria Beckham, also brought along their boys, Brooklyn, Romeo, and Cruz, who sported Kings gear during the game. David stood up and cheered while he watched, with Harper wearing the same expression as they checked out the Jumbotron.
The hockey outing came after a fun sports-filled weekend for the family. Harper played soccer in LA over the weekend, and the rest of the family watched before David and the boys showed off their skills on the sidelines. During the day, David snapped photos of his adorable daughter, marking the latest in a string of sweet moments between the pair. Last week, David kissed Harper during their daddy-daughter day out, showing his softer side after hopping on his motorcycle the day before.
See more pictures from the Beckham family's hockey night after the break.