Before-and-After Pictures From Hurricane Sandy
One Year Later: The Damage of Hurricane Sandy Then and Now
Today marks one year since Hurricane Sandy damaged cities along the East Coast, and President Obama addressed the rebuilding efforts in a written statement. "Today, we remember our fellow Americans who lost their lives to that storm, and we comfort the families who grieve them still," he said. "And while there are still homes to rebuild and businesses to reopen, the last year has also served as a reminder of the strength and resilience of the American people."
The 2012 storm caused nearly 150 deaths and destroyed almost 650,000 homes, and this year, several anniversary events have brought people together to commemorate those who were lost and offer support to those still in need. In New York, 300,000 "I Love New York" MetroCards will go into circulation on Tuesday, part of the state's "Come See the Comeback" tourist campaign that aims to highlight poststorm rebuilding progress. Over the weekend, communities in New Jersey gathered to show support, and 200 photographs documenting the storm and its aftermath will be on display for an exhibit at the Museum of the City of New York this week. A year later, take a look at some of the most affected areas, then and now:
New York, NY
NYC's Hugh L. Carey Tunnel was severely flooded after the storm brought heavy rains.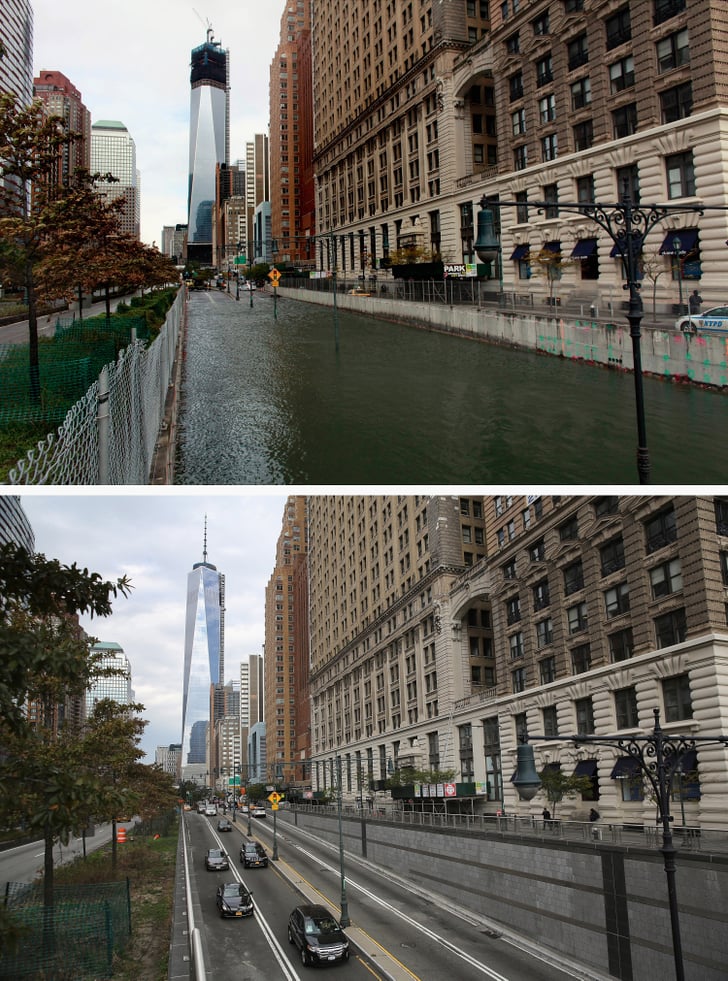 Lyndhurst, NJ
Heavy floods left several feet of standing water in the streets of Lyndhurst in 2012, where a man was seen wading through South 9th Street.
Read on for more before-and-after pictures.
Monmouth Beach, NJ
Huge piles of debris took over Monmouth Beach after Hurricane Sandy hit the area, which has since been restored.
New York, NY
Waves crashed through the gates along the pathway at NYC's Battery Park, where tourists regularly walk for views of the Statue of Liberty.
Staten Island, NY
Firefighters gathered outside a home on Staten Island where two bodies were found after Hurricane Sandy devastated the area.
Union Beach, NJ
Princess Cottage, an iconic structure built in 1855, was badly damaged during the storm, and the site now sits empty.
Highlands, NJ
Wreckage from boats was piled up along the shores of Highlands, the site of a local marina.
Little Ferry, NJ
A man waded through the flooded streets of Little Ferry after the storm hit in 2012.