Behind Britney's Break Up Round Up
Behind Britney's Break Up Round Up
It's all coming together now. The little clues that we did not notice before the bomb Ms Brit dropped on us today. Like her NOT wearing her wedding ring on Letterman. As you know, we are still so thrilled - Britney showed K-Fed the door today, and to no surprise every weekly magazine out there is all over the news. Stay tuned as we find out every juicy detail and in the meantime here's the lastest round up: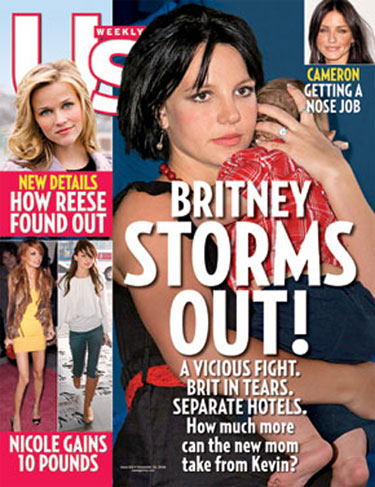 At a bash for Federline's album release at club Xenii in L.A. on October 31, the couple, say sources, had an explosive argument. While Federline worked the crowd (onstage earlier in the night he yelled, "Ladies, I love you!"), Spears was hidden away in an upstairs dressing room.

Before Halloween night was officially over, the pop star, dressed in a black minidress and barefoot, made a dramatic exit. "She ran down the stairs crying and stormed out," a witness says. "Her eyes were swollen and her eyeliner was smudged. She looked like a complete mess." Federline didn't run after his wife.

Matters remained unresolved by the time the couple headed east (Spears even postponed her NYC arrival by one day), and the pop star was spotted welling up in public again on November 2 while having dinner with a male friend at Library, her hotel's restaurant. "She cried on and off the whole meal," an onlooker tells Us.
Based on Britney's appearance on Letterman, she seems to be so happy and ready to move on with her life and focus on her boys. We are still in shock. Not that we didn't see this coming but just not out of the blue like this today. We can't wait to see what Britney has in store for us next.