Ben Affleck Interview at Oscars Luncheon
Ben Affleck Says He's Honored to Be "at the Big Party" For Argo at the Oscars Luncheon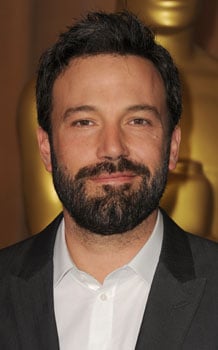 Some of this year's Oscar nominees came together for a luncheon to be honored for their nominations today, and though he hadn't been expected to come, Ben Affleck showed up to talk about Argo — despite his not getting nominated for best director. Affleck addressed that issue graciously and also talked about other, Oscar-nominated directors he'd like to work with.
On whether he thinks the best director category should be expanded like best picture: "I leave those sorts of calculations to the folks at the press, the pundits, and the 'Oscarologists,' or whatever it is. To me, I just feel so incredibly honored to be nominated as a producer for this movie. To be here at the big party. It's tremendous. We got seven nominations, including best picture! I'm elated by that. Truly, genuinely thrilled. There are nine amazing movies, any of which could win, deserve to win. So I don't get into worrying too much about who got what, and who didn't get what. I've had many, many, many, many years watching from home."
On learning more about Argo by doing so much press: "The period of time that I've been able to spend talking about the movie, exploring it with journalists and people and audiences, has been really satisfying. The script Chris [Terrio] wrote has all these interesting themes and storytelling, our relationship with Iran . . . it's a very broad spectrum of stuff. I've worked on movies where I've run out of things to say at the junket after 15 seconds."
On which other filmmakers he'd like to work with: "There are nine amazing movies nominated for best picture. I would love to work with David O. Russell, I would love to work with Steven Spielberg, I would love to work with Ang Lee, I would love to work with Kathryn Bigelow. I don't know what it says about me that I haven't worked with any of these people! Part of me, when I get around these people, I do feel like I should be doing an audition. It's really exciting. Benh Zeitlin is a really exciting new filmmaker. And there's a lot of people that were part of this process that didn't get nominated for best picture that I still want to work with that I think are amazing. Paul Thomas Anderson is one example. It's an incredibly robust group of filmmakers; I'm just happy to be rubbing elbows with them. It's really exciting."