Benedict Cumberbatch Interview About Sherlock
Benedict Cumberbatch Is "Very Flattered and Slightly Bemused" About His Heartthrob Status
Benedict Cumberbatch was one of the celeb guests at Saturday's Veuve Clicquot Polo Classic at New Jersey's Liberty State Park. He mingled with his Star Trek 2 costar Zoe Saldana, as well as fellow Brits like Matthew Rhys and Clive Owen, who cohosted the challenge with Argentine polo star Nacho Figueras. We snagged a couple minutes at the VIP tent with Benedict, who was flying somewhat under the radar. The much-hyped star of BBC hit Sherlock was happy to talk about the ongoing Diamond Jubilee in his native London, and what it was like joining the Star Trek family. Benedict also touched on what life is like as a newly-minted heartthrob. Also, check out what Benedict told us about Sherlock last month! Benedict said: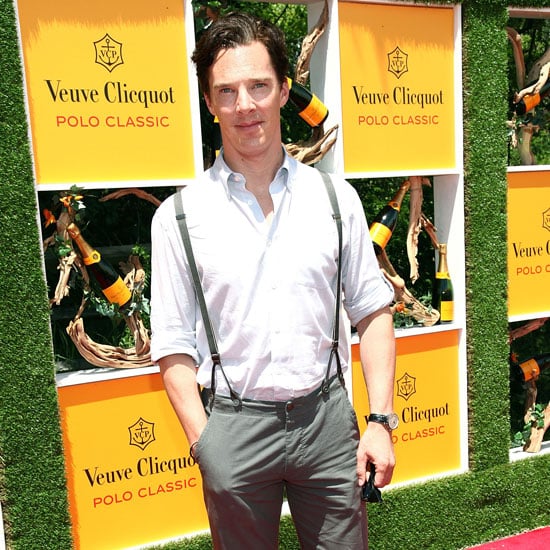 PopSugar: We're here celebrating a very English sport, polo, while back in London, the Diamond Jubilee is going on! Are you excited for the queen's 60th anniversary?
Benedict Cumberbatch: I am exited for the Jubilee. I feel a bit of a treason-worthy abscondee. I planned to have a holiday here a long while after I finished shooting a film I've just done. I guess that's why I am here rather than over there. It's very exciting. We've got three huge events, really, in this next couple of months, this being a kickoff for it. I think, like lots of places in Europe, we need all the home-spun joy and festivities and celebrations we can get at the moment.
PopSugar: Does that mean you're attending the Olympics?
Benedict: I am as much as anyone who doesn't have a ticket can go to the Olympics. I'm going to avoid all the traffic and maybe see the best events at home, I think. But we'll see, hopefully. I haven't really made any plans, to be honest, to go, but I'm really, really excited about hosting it.
PopSugar: You're obviously talking about Star Trek 2. How was it joining that cast to make the movie?
Benedict: Fantastic. Zoe's just my amazing, good friend. The whole thing was just an absolute blast. I mean really, really good fun. I had a terrific time doing it.
PopSugar: You're already quite famous for your role as Sherlock. You're becoming a pretty big heartthrob, with ladies sharing lots of your pictures on the Internet. How do you feel about that?
Benedict: Very flattered and slightly bemused. I mean, I wake up in the morning and see the same weird things about me that I've seen for 35 years. So I take it with a pinch of salt. But I'm very flattered. I play extraordinary characters, so I think it's a lot on the back of that. I don't take it too seriously, but I'm very flattered and keep my perspective on things.
To read what else Benedict has to say about how life has changed thanks to his heartthrob status, just read more.
PopSugar: So has life changed a lot for you lately, then?
Benedict: It makes me smile, not that I didn't smile before. But it makes me giggle a bit, like an idiot . . . It's a weird thing, isn't it? Because people know me better than I know them now. That has changed things. That makes for a very strange first encounter sort of dynamic, if you know what I mean. I can't be churlish about it. It's incredibly flattering. I want to do something useful with it, rather than just sort of feel smug about it. It's a lovely position to be in, and it's off the back of work that's been really, really celebrated.
PopSugar: It sure has. Sherlock is a big hit here in the US.
Benedict: There's a lot of joy in it also. It's just how to use that profile or response. I guess that's really boring, but I am having fun as well. It's an extraordinary time in our lives, this. Our generation has a sh*t load of stuff that we really have to pick up the pieces on. It's quite exhilarating to be in the sort of position where people listen to what you have to say. You have to be very careful with that.