Benedict Cumberbatch on Sherlock Sex Scenes
Benedict Cumberbatch's Description of Sherlock Sex Is Totally Hot — and NSFW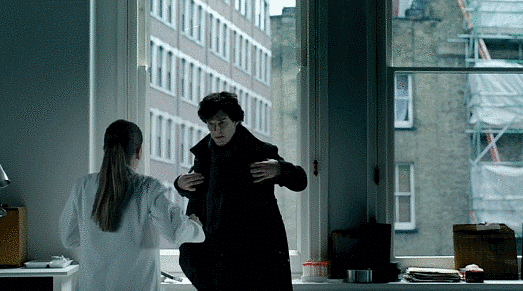 Benedict Cumberbatch sent millions of Cumberb*tches into a frenzy when he went into explicit detail about how good his famous character Sherlock would be in bed. The actor revealed all when he sat down for an interview with Elle UK, and the interviewer theorized that the detail-obsessed detective would be a "terrible shag," despite Benedict's character having legions of female fans. Benedict, it turns out, thinks Sherlock would be very good in bed, and he wanted to prove it to the interviewer:
"I would be devastating. I'd know exactly how to please a woman, I'd know exactly where to put my fingers, where to put my tongue, where to put my — his I should say — his fingers, his tongue. Think about violinists, think about what they can do with their fingers. And I'd know exactly how to get that person into it, and get pleasure out of making that person feel pleasure to the point that I probably wouldn't even have to enter. But when I did it would be explosive."
Is it getting hot in here? To be fair, it's not exactly the interviewer's fault that she felt that Sherlock wouldn't be that great in bed considering that we hardly ever see his sexual side. (As Benedict himself notes, "it's not that kind of program.") However, we can't forget that Sherlock himself gave us the sexiest TV GIF of all time (see above), and Benedict is a pretty well-established sex symbol in his own right.
Image Source: PBS