Best Jimmy Kimmel Videos
Hollywood Loves Birthday Boy Jimmy Kimmel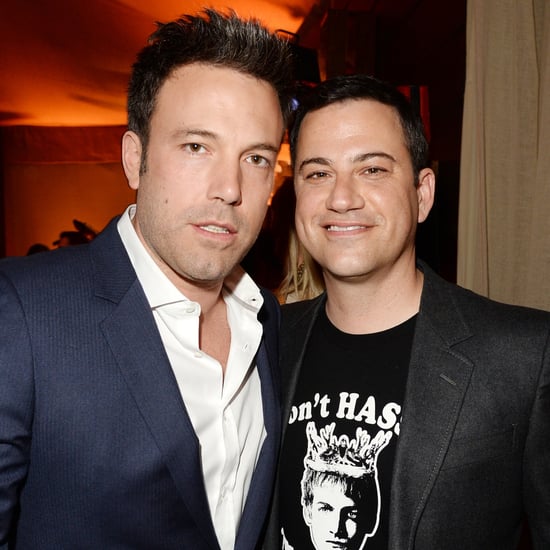 Jimmy Kimmel turns 46 today! This year has treated the comedian well, so far. He saw his late night show move to 11:30 p.m., got married, and continued to find viral success with his hilarious segments and pranks. Through it all, Jimmy's had the support of his celebrity fans. To celebrate his birthday, we're looking at all the reasons Jimmy has become one of Hollywood's most popular dudes.
He's Friends With All the Hot Guys
In his 2010 post-Oscar special, Jimmy brought us inside The Handsome Men's Club secret society. Members included Jimmy's dapper friends, like Rob Lowe, Matthew McConaughey, Sting, and, of course, Ben Affleck and Matt Damon.
His
Wedding

Guest List Was A-List
Jimmy married his longtime girlfriend Molly McNearney in Ojai, CA, in July, and the newlyweds were joined by a ton of A-list guests, including Matt and Luciana Damon, Ben Affleck, Jennifer Garner, Jennifer Aniston, Justin Theroux, Kristen Bell, Dax Shepard, Ellen DeGeneres, Portia de Rossi, and more!
His Competition Thinks He's Funny
Jimmy Kimmel can even crack up late-night competition Jimmy Fallon, as seen here at the 2013 Time 100 Gala.
Shots!
Keep reading for more Jimmy love!
His Famous Pals Love to Tease Him
You know you're well-liked when your pals tease you. In 2008, Jimmy's then-girlfriend, Sarah Silverman, teamed up with Matt Damon to give Jimmy a hard time in the viral video "I'm F*cking Matt Damon."
Jimmy kept the joke going with "I'm F*cking Ben Affleck."
And They'll Channing All Over His Tatum
In June 2013, Channing Tatum and Jamie Foxx teamed up with Jimmy and Olivia Munn, Gabourey Sidibe, and Miley Cyrus to make a music video for "(I Wanna) Channing All Over Your Tatum" — a catch phrase Jimmy coined. When it comes to Jimmy's show, celebrities aren't afraid to put themselves out there.
He's Very Persuasive
On his show, Jimmy has managed to convince some of his famous pals to read mean things people have tweeted about them. They'll do anything for Jimmy! And lucky for us, the results are hilarious.
He Vacations With Hollywood's Finest
Jimmy and Molly enjoyed downtime in Cabo, Mexico, last December alongside John Krasinski. Emily Blunt, Jennifer Aniston, and Justin Theroux also made the trip.
His Ex Has No Hard Feelings
Jimmy dated fellow comedian Sarah Silverman for seven years before going on to date and marry Molly McNearney, a head writer on his show. The trio seemed to have no hard feelings between themselves when they shared a big laugh at Hollywood event in June 2013.
Even Kanye Can't Hold a Grudge
In October, the rapper and talk show host came face-to-face following an Internet feud. After Jimmy spoofed Kanye's in-depth BBC Radio 1 interview on the show, the hip-hop star took to Twitter to call Jimmy "out of line" and lobbed insults at the comedian, including a claim that "Sarah Silverman is a thousand times funnier" than he is. But on Jimmy's show, Kanye squashed the beef and admitted that his "ego flared up" and that he "took it back to high school for a little bit." Even Kanye can't stay mad at Jimmy!