Best Miley Cyrus Quotes 2013
Miley Cyrus Ends the Year With Even More Shocking Quotes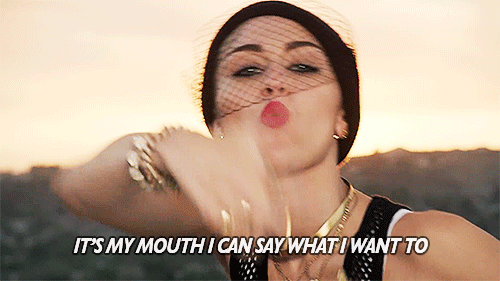 You could say that Miley Cyrus came in like a wrecking ball this year: when she wasn't getting tattooed, twerking on bears (and Robin Thicke), and smoking a blunt on stage, Miley was making insanely candid comments in magazines and interviews. This week, the singer opened up to The New York Times about her transformation from Hannah Montana to twerk-tacular pop sensation — and the quotes are pretty intense. Read them below, along with more Miley quotes that made us laugh, made us think, and had us asking, "WTF?"
On Playing a Character
"I went from people just thinking I was, like, a baby to people thinking I'm this, like, sex freak that really just pops molly and does lines all day. It's like, 'Has anyone ever heard of rock 'n' roll?' There's a sex scene in pretty much every single movie, and they go, 'Well, that's a character.' Well, that's a character. I don't really dress as a teddy bear and, like, twerk on Robin Thicke, you know?"
On Haters Hating and Being Punk Rock
"I don't care what the media says because I don't Google myself, so I don't know what they say, and I don't care because it's a bunch of people that maybe one time in their life, they dreamt about being a journalist, and then they became what they are."
"Even people who want to hate on me, they can't even shut down the fact that I'm literally what everyone is talking about. I don't want to say that I'm on top right now — I feel like I'm kind of an underdog in a cool way. It's almost punk rock to like me, because it's not the right thing to do."
On Her Racy VMAs Performance
"Somehow people found that it was racist, which I couldn't even wrap my mind around. Because I'm like: 'How do I win? If I have white dancers, then I'm racist. If I have black girl dancers, then I'm racist.' We know we're not racist, and I know I'm not putting down women. People got a rise out of me saying that I was a feminist, but I am. I'm telling women, 'Be whoever you want to be.'"
"When people started complaining about the awards show, I was like, 'Have you never seen the f*cking video?' And what if I hadn't done that performance? The VMAs would have been bad. They would have been missing something. The show was kind of making fun of how serious the pop industry is."
"No one is talking about the man behind the ass. It was a lot of 'Miley twerks on Robin Thicke,' but never, 'Robin Thicke grinds up on Miley.' They're only talking about the one that bent over. So, obviously there's a double standard."
"Now people expect me to come out and twerk with my tongue out all the time. I'll probably never do that sh*t again."
On Talking the Way She Talks
"Right now, me doing any kind of cover for anything that's, like, a Seventeen or Teen Vogue or whatever, the way that I talk isn't the way that people that are 17 really understand. I don't know how to not talk the way I talk. I would rather have everything I do be 100 percent honest. I just want to be who I am."
On Mo' Money, Mo' Problems
"When I was growing up, I didn't even notice that I started making all this money. There's something about new money that makes people change. But I never did not have [money]. So, when I got it, I didn't become obsessed with having it."
On Other Pop Stars
"I watch everyone's music videos, to the point where I'm OCD, looking at every single thing they're wearing and what they're doing. Before, it was hard for me to watch that kind of stuff. I was so jealous of what everyone else got to do, because I didn't get to truly be myself yet. But now I realize how much they're not being themselves either. You don't have to be signed to Disney Channel to be put in a box, or to be rated PG."
"I'm with artists sometimes, and I'll take a picture of them or whatever. They make me delete it. I'll get someone to, like, flash me, and they'll be, like, 'You have to delete it!' I had to do that when I was 14 or 15, but even then I didn't care. Like, if someone was videoing me ripping a bong, I didn't care, so it's just funny to me. I'm like: 'Dude, you're 30. Like, why can't someone see a picture of your [breasts]?'"
"I don't have a bunch of celeb friends, because I feel like some of them are a little scared of the association. This is terrible. I was backstage with [rising pop star] Ariana Grande. I'm like, 'Walk out with me right now and get this picture, and this will be the best thing that happens to you, because just you associating with me makes you a little less sweet.'"
On
Kanye West
"Kanye is the sh*t. I kind of have a good relationship with him now. It's good to have someone you can call and be like, 'Yo, do you think I should wear this?' 'Do you think I should go in the studio with this guy?' 'Do you think this is cool?' That's what homies are supposed to do."
"If you want to smoke weed, you're going to smoke weed. There's nothing that two little girls are going to get you to do that you don't want to do. I thought maybe he was saying that like it was going to make him look badass. We were so young that it's actually, like, 'How did you get peer pressured by me?'"
On Society
"Like, society wants to shut me down."
On Her Relationship With
Liam Hemsworth
"Number one is my relationship with Liam. That's what I feel the most confident in because you never know; there's so much hype behind my new record, but it could come out, and worst-case scenario, everyone f*cking hates it."
"This is the best time of my life. I'm not going to look back on it and be, like, 'I wish I hadn't been dwelling over a breakup,' you know? Because that's not what God wants my life to be about right now."
On Creating a Niche
"[My friends] are not the country girls who are wearing the little frilled skirts and cowboy boots. There is no girl out there speaking on behalf of the country girls who are turnt up."
On Her Neighbor
Steve Carell
"He always gives me the stank eye because I drive so fast. The other day, I was trying to reverse, and I almost hit a thousand things, and I was getting nervous because I could see him . . . I'm like, oh, my God, Dan in Real Life is watching me right now!"
On Enjoying Her Alone Time
"I've never just been able to be alone, and I'm obsessed with being alone and hearing my thoughts. I'm trying to take this alone time — the five minutes I do have a day — to learn as much as I can."
On Feeling Her Own Vibe
"Have you ever been to South Street in Philly? That's where I got my first chain . . . I was away from people for a minute, and I just started feeling my own vibe. I bought a pair of Doc Martens. I shaved my head. Driving a f*cking Ford Explorer around. Just blending in."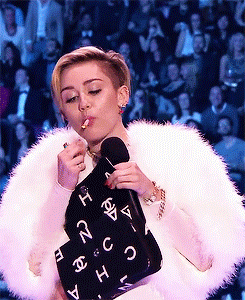 On Burning One on Stage at the MTV EMAs:
"I was just walking out of my room, and then I was, like 'Oh, I have this [joint] in my bag — that will be really funny.' I just did it mostly because I knew the fans in Amsterdam would love it, and they started going crazy when I did it. Even though that happened, it's not like the main focus of the night."