Best Way to Donate to Typhoon Haiyan Efforts
Stop. Read This Before You Donate to Typhoon Haiyan Relief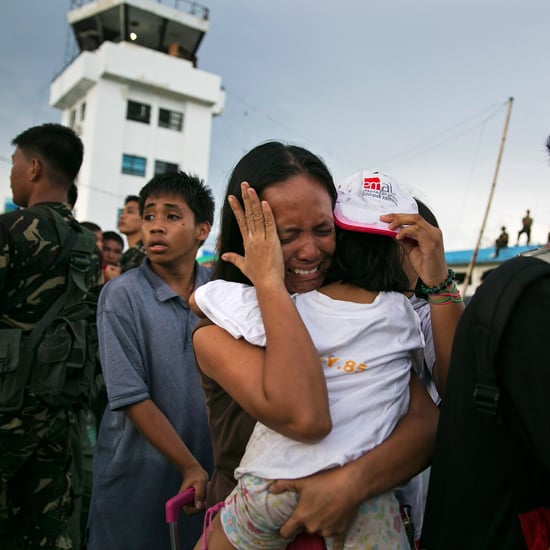 The heart-wrenching images of the Philippines devastated by Typhoon Haiyan make us immediately want to help out in every way we can. Hundreds of people have been buried in mass graves, and the death toll is reportedly at 3,631 people, though estimates of the true death toll say it could be higher. Seeing these brutal statistics would make anyone want to reach for her wallet, but stop and read what we have to say before donating. Here are four important things to keep in mind if you want to help out:
1. Your funds may not all go toward the Philippines typhoon efforts
You might think that donating to well-known charities who are helping out is the best route, but for many charities, your excess funds may go toward other disasters. This might be a problem for you if you set your mind on donating specifically to a single disaster like the Philippines typhoon situation. Find out if there's a way to restrict your donation to the Philippines efforts when you're donating, and if there's not, then you might want to stick to charities that ensure your donation goes toward Haiyan relief. Charity Navigator has a list of charities that let you do so, some of which include:
Here is the full list of organizations that promise to designate 100 percent of your funds to the current Philippines disaster efforts. Keep your eye on this list, as it will continually be updated.
It's crucial to also check the history of the nonprofit's work in the Philippines to make sure the donations are actually being put to proper use; picking an NGO that understands the infrastructure of the Philippines is just as important.
2. Watch out for nonprofits that aren't clear on where your funds are going
Charity Navigator also has a list of organizations that aren't clear on their fundraising efforts or where the excess funds will go or that are not accepting designated donations toward Haiyan efforts. You might be surprised at the nonprofits on this list: American Red Cross; Convoy of Hope; Doctors Without Borders, USA; Mercy Corps; Operation USA; Christian Blind Mission International; Childcare Worldwide; Church World Service; Global Impact; Plan International USA; Save the Children; Heart to Heart International; International Relief Teams; United States Fund For UNICEF; Catholic Relief Services; ShelterBox USA; and World Vision.
If you do want to donate through these charities, then Charity Navigator strongly encourages you to contact the organizations directly to affirm that your donations are going toward this specific effort.
3. There will be a delay with texting funds
It's so easy to text your donation, but the transfer of money from your text donations is not as immediate as it looks. It takes 90 days for your text donations to reach the designated charity. Not to mention, there may be a 5 to 10 percent administrative fee (although some organizations are waiving it). The fees might also apply to online donations, so you may want to check on that, but one of the advantages of donating through the web is that the NGO will be immediately notified of your donation.
4. Donate cash, not goods
Cash will definitely be the better way to help out from abroad. "Whether it's the US or abroad, one thing that typically happens after a major disaster is people want to donate stuff. This creates enormous logistical problems," says Kathleen Tierney, director of the Natural Hazards Center at the University of Colorado-Boulder. The danger in donating goods is that it may compete with the local vendors that are trying to rebound. When you donate cash, the charity can buy goods locally, helping the market for people trying to recover.
Finally, here's how you can stay on top of what's happening.