Beyonce From Harrods to Wal-Mart
Beyonce hit TRL yesterday and while she looks beautiful we're not sure we're loving this dress. The fashionista has stylists and storage closets but that doesn't mean she's too big for the big box retailer like Wal-Mart. Here's more: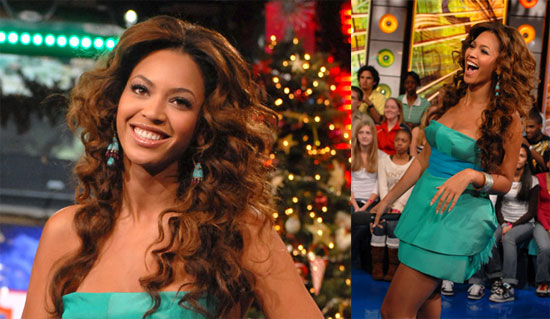 A recent trip to London's Harrods department store did some serious damage. "I didn't have time to try stuff on, so I just bought everything I loved and had it sent to my hotel. Then I sent back anything that didn't fit," she says. Luckily, closet space isn't a concern: She keeps all her clothes in two huge storage centers-one in New York, another in her hometown of Houston.

Posh, high-priced stores aren't the only way she gets a shopping fix: When Beyonce is in Houston, she can't wait to hit the local discount places. "As a matter of fact one of my fans just told me that she saw me at Wal-Mart," she says. "My sister and I have so much fun. I get everything there-CD's, all kinds of makeup like mascara, lipstick. And then I never end up using any of it."
Must be nice. For more pics of a blue-green B on TRL just read more