Beyonce, Jay-Z and Katy's Big Night in Berlin For the EMAs!
Beyonce, Jay-Z and Katy's Big Night in Berlin For the EMAs!
Stars of the music world hit the red carpet and the stage at tonight's MTV EMAs held in Berlin, Germany. The ladies were decked out in black and cream, with Beyonce and Katy Perry standing out in their long gowns. Bar Refaeli looked gorgeous as usual, but the dress was a bit of a departure from her usual style. The guys were the one with the stand out makeup trend of the night — guyliner  — though the Jonas Brothers weren't feeling the need to participate. Tell us what you think about all the looks here on FabSugar UK.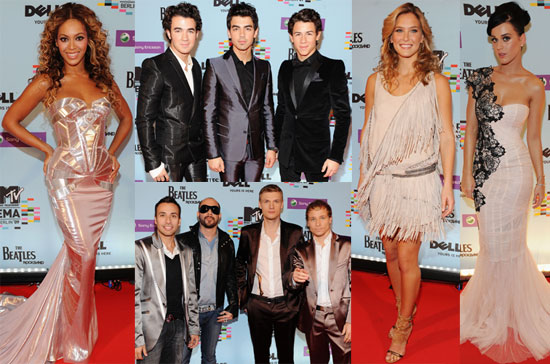 Inside, Jay-Z performed and looked adorable posing with his wife backstage while Brody Jenner smiled with Miranda Cosgrove. She also stepped out in a sexy red costume and was the biggest winner of the night taking home three awards! Lady Gaga, U2 and Jay-Z were also among the artists who will be packing up their statues for the flight home. Katy Perry had a handful of costume changes, but her man Russell Brand wasn't there to give her a hand with that — check out all the big performances here.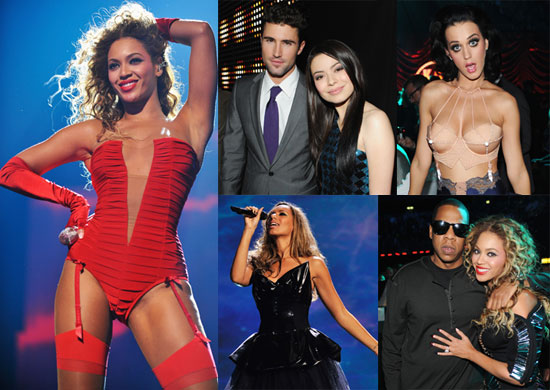 To see more from the night just read more.
Images include: Beyonce Knowles, Jay-Z, Shakira, Katy Perry, Backstreet Boys, The Jonas Brothers, Kevin Jonas, Joe Jonas, Nick Jonas, Miranda Cosgrove, Brody Jenner, Green Day, Leona Lewis, Lil Kim, Bar Refaeli, David Hasselhoff