Beyonce and Jay-Z at Trayvon Martin Rally
Beyoncé and Jay-Z Step Out in Support of Trayvon Martin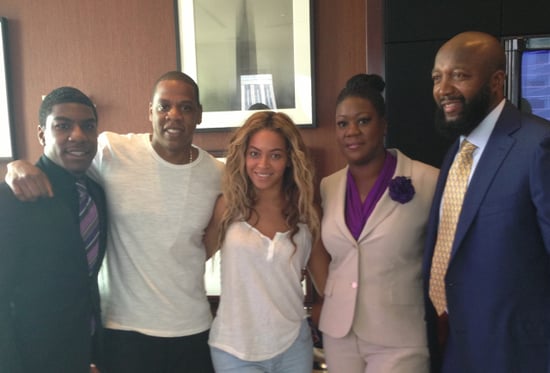 On Saturday, Beyoncé and Jay-Z attended a rally for Trayvon Martin in NYC, meeting up with the shooting victim's parents and showing their support for the family. The couple kept a low profile at the event, which Al Sharpton addressed when he spoke, saying, "Jay-Z and Beyoncé said they didn't want to speak, and they didn't come for a photo op." He did reference the couple's stance, though, adding, "Jay-Z told me, 'I'm a father. Beyoncé is a mother.' We all feel the pain and apprehension — the laws must protect everybody, or it doesn't protect anybody."
There have been several rallies, protests, and vigils held in support of Martin since George Zimmerman was found not guilty on July 14, and celebrities like Rihanna, Lena Dunham, and Beyoncé's friend Kelly Rowland shared their reactions to the verdict on Twitter.

During the rally, Beyoncé posted a picture of bracelets in support of Martin with the caption "#actnow4Trayvon" and later took to her website to share a photo of her and Jay-Z with Martin's family. Her appearance at the rally isn't the first time the star spoke out on Martin's behalf, though — on Saturday, hours after the verdict was announced, Beyoncé held a moment of silence for Martin at her concert in Nashville, following it up with the chorus from "I Will Always Love You."

President Barack Obama — who's known to be close to the couple — addressed the Zimmerman verdict on Friday for the first time, saying in a press conference, "You know, when Trayvon Martin was first shot, I said that this could have been my son. Another way of saying that is Trayvon Martin could have been me 35 years ago." The president also acknowledged the pain the African-American community has felt in the wake of the verdict, and Martin's parents called President Obama's statements a "beautiful tribute to our boy."