Beyonce Knowles For Marie Claire June 2006
Beyonce Plays Girl Power Cheerleader For Marie Clarie
Beyonce posed in a sparkly mini dress for the June issue of Marie Claire, but it looks like she had even more fun modeling the Thierry Mugler looks from her tour for the photo shoot. In the article, Beyonce reveals that she sometimes keeps herself smiling by getting Jay-Z's name and face appliquéd on her nails. The superstar also admits that she's not always as strong as she appears but that's what makes her songs important. Here are highlights: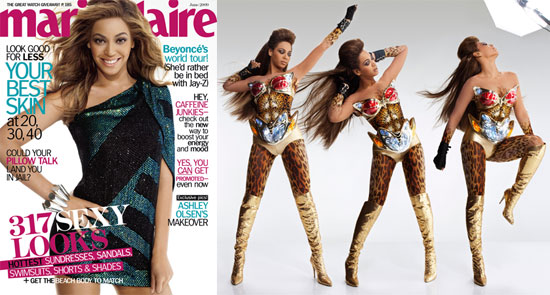 On her hit song Single Ladies: "More than anything, the song celebrates being single. It's like, if you've been doing all you can and it's not happening for you, go out and have you a good old time. Put on your sexy dress and move on."
On her music: "I know I'm stronger in the songs than I really am. Sometimes I need to hear it myself. We all need to hear those empowering songs to remind us."
On her year: "Fifteen years from now, I want to be able to look back and say, 'Wow. That's where I was at 27 . . . that was my best.'"
Beyonce seems pretty strong as far as we can tell, but she's got a whole tour lined up packed with performances in case she needs a boost.