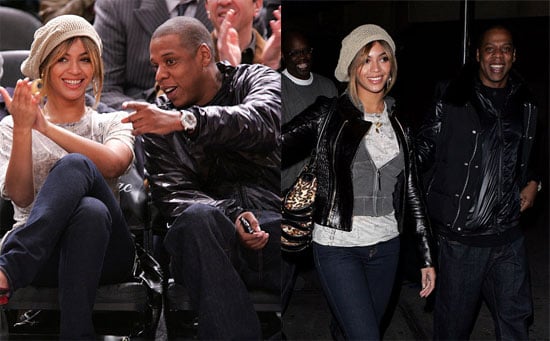 0
Is Beyonce Looking to Move Over to Def Jam?
Beyonce and Jay-Z were having a great time cheering on the Nets as they went up against the Knicks last night at MSG. The two have quite an investment in the Nets - Jay-Z is a partial owner while Beyonce's House of Dereon designed the cheerleaders' outfits. Page Six is reporting that Jay-Z is interested in partnering up with his girl even more and we're not talking wedding rumors. He wants to bring B from Sony over to Def-Jam records. Here's more:
He would love to oversee her career - he kind of does anyway," an insider told Page Six. But it could also just be a ploy to get Sony to pony up more money to Knowles. "Sony has had a bad year - all the hit acts, Justin Timberlake, Christina Aguilera and the 'American Idol' kids, are all on BMG," our source said. "They can't afford to lose Beyoncé. They'll probably mortgage the farm to keep her. Which means a lot more money for Beyoncé - and Jay-Z if they get married."
Sounds like the two of them are going to make out either way - no wonder they're in such good spirits. Well, that and the Nets beat the Knicks 104 to 95!
For more pics including Tyra and Kimora Lee just