Beyonce at a Public School in Brazil | Pictures
Beyoncé Puts Her Love on Top in Brazil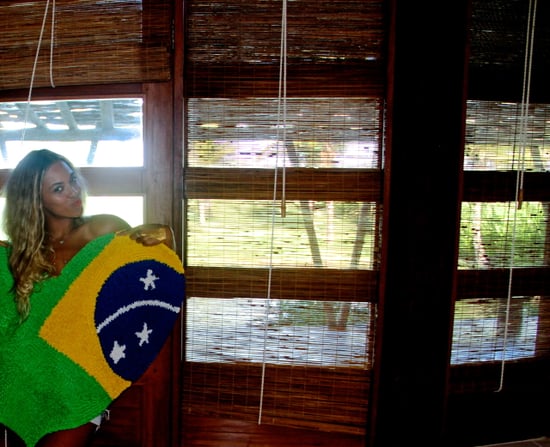 Beyoncé is having quite the time in Brazil! Today, she shared personal pictures from the trip on her popular Tumblr account, holding a heart-shaped Brazilian flag and striking a pose on a staircase. Bey's been in South America for over a week, and yesterday she relaxed during a visit to a local public school in Rio de Janeiro, where she posed with fans and even played a little soccer. Bey was seemingly unfazed by the incident during her São Paulo concert on Sunday, when a fan literally tried to pull her off stage in the middle of her performance. Beyoncé reportedly went over to the fan after she finished her song, shook the man's hand, and said, "Nice to meet you. Thank you, I love you, too."
Beyoncé has been going nonstop since her relaxing Mediterranean vacation with Jay Z and Blue Ivy, during which she wasn't shy about sharing pictures and letting us in on the fun. Leading up to today's public school visit, Beyoncé kicked off the Rock in Rio festival on Sept. 13. She also joined a press conference for The Mrs. Carter Show World Tour a few days before the festival, where she posed for pictures, answered questions, and hung out backstage with a few lucky fans.
Check out the pictures from Bey's adorable public school visit below.