Biggest Headline of 2008: Michael Phelps Makes Olympic History in Beijing
We've been counting down the biggest headlines of 2008, and we'll be revealing more throughout the month of December. We hope you enjoy this look back at some of the posts and stories that created the most buzz throughout the year.
An Olympic year is always a special treat, but last Summer's Beijing games were particularly exciting thanks to Michael Phelps. He arrived in China hoping to break Mark Spitz's record of 7 gold medals in one Olympics, and before the races got started many of you had already proclaimed him as hot. In no time at all, Michael was taking home golds and swiftly beating his competitors, with an especially exciting relay that let him share his success with his USA teammates. After completing his first five events, Michael broke the record for most career gold medals with 11 to his name.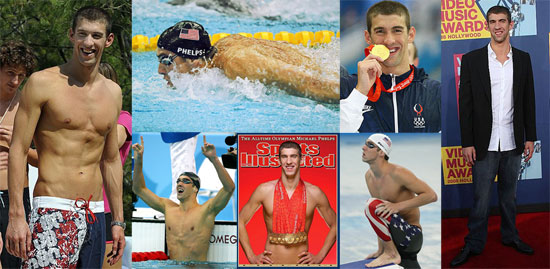 He didn't stop there, and we were glued to our TVs along with the rest of America night after night as we cheered on the golden boy. Race number seven almost cost him everything as Michael was beginning to feel the effects and exhaustion of the games, but he pulled out an incredibly close win and beat Serbia's Milo Cavi by just 0.01 seconds in the 100-meter butterfly. The next day was Michael's last race, and he made history by scoring his eighth gold medal in the 4x100 medley relay.
Once the Olympics were over, Michael became an instant celebrity. He was on the cover of Sports Illustrated, picking up endorsements and making appearances everywhere we turned. Michael didn't seem to have any problem soaking up all the attention from his female fans, and was quickly all over the tabloids as we speculated about his love life. In January, Michael is due to get back in the pool to start training for his next games, which means his 15 minutes of fame could last at least another 4 years.