Biggest Headline of 2009: Gisele and Tom Are Married With Children
We've been counting down the biggest headlines of 2009, and we'll be revealing more throughout the month of December. We hope you enjoy this look back at some of the posts and stories that created the most buzz throughout the year.
Gisele Bundchen and Tom Brady had a big year, with two weddings and a baby! News broke that the duo was engaged in January, and we didn't have to wait long for the actual wedding to occur. They first tied the knot with a small ceremony February in LA, then included more friends and family for a larger event during May in Costa Rica. The happy couple then took some time to enjoy their newlywed status at the beach with Tom's son Jack. They were soon off to NYC, where they showed off her new ring at the Costume Institute Ball.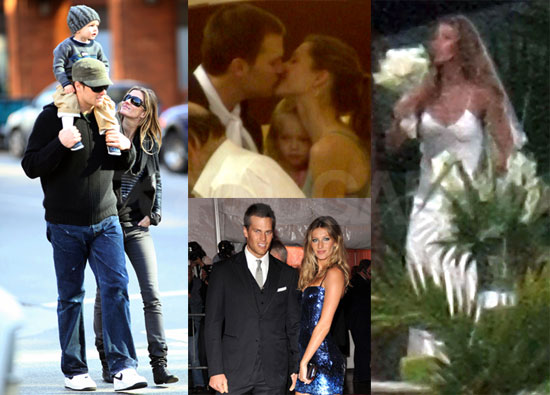 After months of pregnancy rumors, Gisele and Tom announced in June that they were expecting their first child together. Gisele tried to keep the pregnancy under wraps for a while, but by Fall there was no hiding the bump she sported while out with friends. The parents-to-be found time for date nights in the middle of his busy NFL season, though Tom doesn't need to worry about who's watching his son Jack while he's at work — Gisele is happy to be a stepmom. Jack became a big brother just a few weeks ago, when Tom and Gisele welcomed their first child, Benjamin, at a Boston hospital. Tom opened up about his second son during a press conference, and it was evident that the new dad beamed with pride. It's been a whirlwind twelve months for Tom and Gisele, but they seem perfectly content as husband and wife with a growing family.