Biggest Headline of 2010: Sandra Bullock's Surprise Adoption of Louis!
Biggest Headline of 2010: Sandra Bullock's Surprise Adoption of Louis!
We're looking back at the biggest headlines of 2010, and we'll be revealing more throughout the month of December. Here's one of the stories that created the most buzz over the past 12 months and don't miss the rest of our Best of 2010 coverage across the network!
It was a year of enormous change for Sandra Bullock, who achieved Best Actress Oscar glory in March for her fantastic work in The Blind Side only to face the end of her marriage to Jesse James a few weeks later. That sort of upheaval would have been a lot for anyone, but Sandra had a secret she maintained despite all the chaos — earlier this year, she and Jesse had started down the path to adopting son Louis.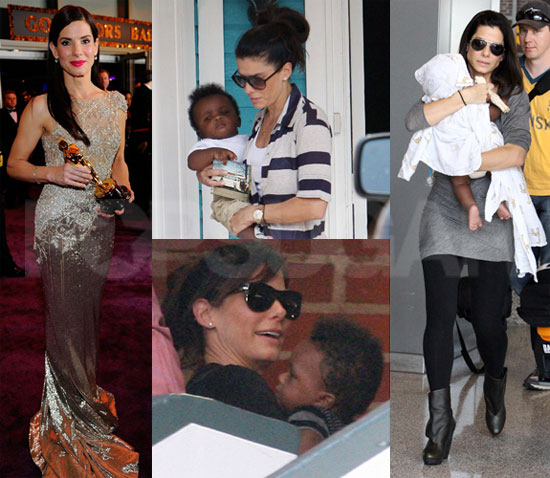 Sandra won her Academy Award on March 7 for her role in The Blind Side, with her then-husband Jesse James by her side acting the part of the proud spouse. It was only ten days later that reports about Jesse's infidelities began to emerge, and over the course of the next month Sandra moved out of their home, hired a lawyer, and took off her wedding ring.
The headlines continued for weeks until Sandra changed the whole narrative by showing off her adopted son, Louis Bardo Bullock, in a special issue of People! She took the opportunity to confirm that she was indeed divorcing Jesse, though she hopes that he'll still play a role in Louis's life.
Sandra and Louis escaped LA to spend time in both his home city of New Orleans, where they spent her first Mother's Day, and Austin. It wasn't until June that she stepped back into the limelight by appearing at the Spike Guys Choice Awards and the MTV Movie Awards. With her divorce finally official, Sandra's ready to get back to acting and of course she'll have little Louis along wherever her flourishing career takes them.