Bikini Photos of Vanessa Hudgens For Parade Magazine
Bikini-Clad Vanessa Opens Up About Being Shy
Vanessa Hudgens looked perfectly summery, posing in a few swimsuits for the latest issue of Parade. While promoting her film Bandslam she talked about her childhood and why she tries to stay private about her boyfriend Zac Efron. Here are some highlights: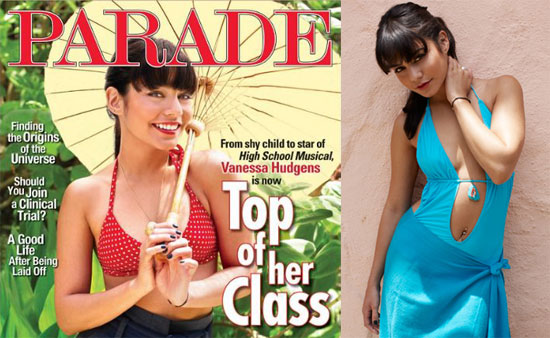 On the constant gossip about her relationship with Zac: "That's why I'm extremely guarded. I really do try to watch everything I say. Because one little tiny slip, and it's like the world is coming to an end! It is hard. I do always have a wall up. But I feel by doing it, I keep myself safe. . . . I try not to read the blogs or what people say about me. Because that's what brings everybody down — no matter what you do, you're always going to have haters."
On being shy growing up: "When I was young, I would not talk to anybody if I didn't know them. I'd hide behind my mom if she tried to introduce me to anyone. . . . I would call her at work nonstop, to the point where she got fired. It was horrible. . . . When I was on the stage, I felt like I was hiding behind a person, and I adored it."
On the High School Musical franchise: "[It] was the best thing that could and possibly will ever happen to me. I got to make lifelong friends. I had the most incredible time of my life."
To see more photos from Vanessa's shoot just
.