Blake Lively For Seventeen
Blake Lively Spills For Seventeen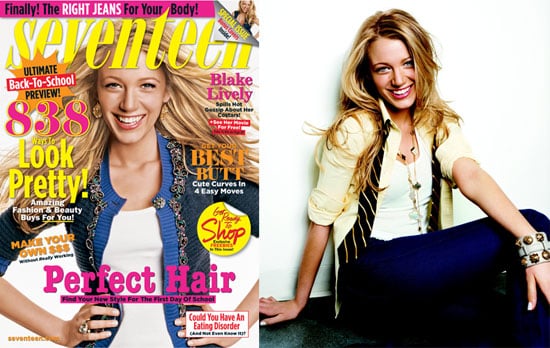 0
Blake Lively Spills For Seventeen
From Vanity Fair to Seventeen, Blake Lively is racking up her magazine cover girl credits this Summer. We already know that she vented about being compared to Paris Hilton, but in the article she also opens up about her costars' special talents and staying away from the nightlife, all while playing coy about Penn. Here are highlights:
On getting silly with her co-stars: "Everyone is really funny and has such strange things that they do. Like Leighton does amazing voice impressions, and she can impersonate anyone's face. Chace does an amazing impression of Scott Stapp from Creed. Ed is always singing. Taylor is just so adorable, I just want to bake her a cupcake. And Penn does these silly dance moves, and he's very witty and quick, so it's fun to have sharp banter with him."
On why she doesn't hit the NYC hot spots: "I don't drink, so when you're going out to a really loud place, where you can't talk to other people, and people are drinking, you can't really have a conversation. I just never really found too much joy in it. Especially if there's something else fun to do, like play Guitar Hero."
On how actors fall for each other off-set: "Maybe when they kiss off the set – because it's definitely not romantic on the set, that's for sure. When you're saying these words that people are making you say to one another, nothing about it is real or genuine. So if two people connect outside their characters, then that's how they get together."
We know that Miss Blake spends plenty of time working on her off-screen kissing, but we admit we're curious to see what happens with all the on screen romance between Serena and Dan when season two starts up again. In fact, we have quite a few questions for those kids.
Photo courtesy of Cliff Watts