Borat Premieres in Hollywood
Monday night Sacha Baron Cohen premiered his new film, Borat: Cultural Learnings of America for Make Benefit Glorious Nation of Kazakhstan, in Hollywood. Courteney Cox Arquette, Drew Barrymore, Sacha's lady Isla Fisher and many, many more all showed up for the festivities. He's clearly in with the hot Hollywood it-crowd. And the comedian who made the character Borat famous on his hit show, Da Ali G show, spared no expense on the red carpet beforehand. Here's more: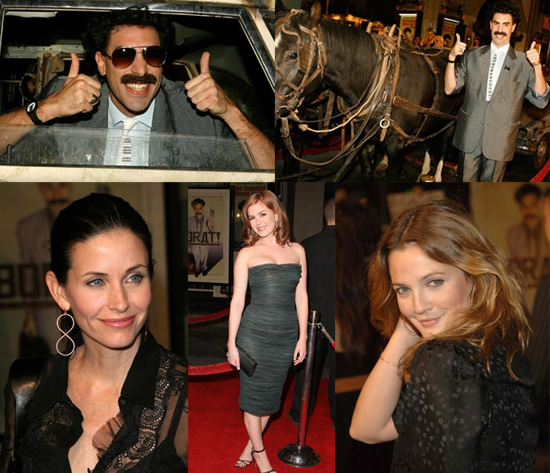 The "journalist" from Kazakhstan played by Sacha Baron Cohen transformed the red carpet premiere of his new film into a scene from his home country yesterday -- complete with a parade of hookers, peasants and a horse drawn stationwagon.

After being carried to a stage by a "woman" who resembled a linebacker with a five o'clock shadow, Borat greeted the crowd on Hollywood Blvd. with "Good evening gentlemen and prostitutes."
The good news? Sacha left his torquoise thong-suspenders at home. The bad news is, he had other people on hand to wear them. For pics including Sheryl Crow, Courtney Love, Rachael Leigh Cook, and Jillian Barberie read more