Brad Opens Up About His Inglourious Motorcycle Moment
Brad Pitt arrived in Tokyo yesterday, and this morning he was up for an Inglourious Basterds press conference alongside Quentin Tarantino and costars Melanie Laurent and Julie Dreyfus. They're all there to promote the movie before its release in Japan, and the stars sat down to independently field a few questions. Brad opened up about his work in the film, as well as his recent motorcycle troubles and his plans to expand his bike collection. Here's more: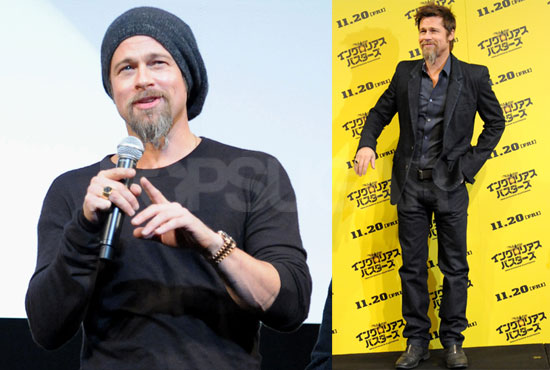 On his recent motorcycle accident: "I had a little mishap. No injuries, except my ego. I was trying to get away from some paparazzi and instead gave them a good story. It was my favorite bike, so that is really sad."
On replacing his damaged bike: "I will definitely be looking at motorcycles [while in Japan]. You've got some of the best builders right here."
On landing the role in Quentin's film: "We had heard about this script for about eight years before it came my way, so it had taken on a mythical dimension. I was doubly flattered because Quentin originally wrote the part for himself."