Brad Pitt and Angelina Jolie Donate $500,000 to Tornado Relief
Brad Pitt and Angelina Jolie Contribute Half a Million to Missouri Tornado Relief
Brad Pitt and Angelina Jolie have donated $500,000 to the Community Foundation of the Ozarks to help with cleanup following last month's tornadoes in Missouri. Brad, a native of the state who spent time in the city of Joplin as a child, was touched deeply by the natural disaster there and was moved to help. In a statement, Brad said: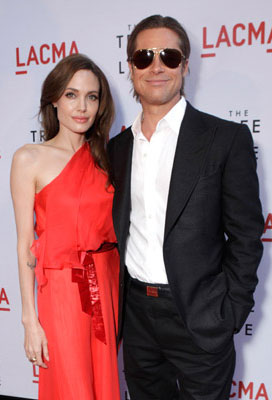 "With the devastating loss of thirty percent of the city, the Joplin community faces great challenges ahead. Having spent much of my childhood there, I know these people to be hardworking, humble and especially resilient. The locally based Community Foundation of the Ozarks will be working shoulder to shoulder with these Joplin residents for the long haul as they rebuild their lives. We, too, hope to further help with these rebuilding efforts."
Angelina weighed in too, saying, "Last year 42 million people worldwide were displaced by natural disasters. So often these disasters seem far away, but now the need is for thousands of people displaced right here at home. Our hearts go out to the families in Joplin who have lost so much." Both Brad and Angelina are known for their impressive giving, having donated $150,000 to the SOS Children's Villages last November and a reported $2 million to the Namibia's Naankuse Wildlife Sanctuary earlier this year.