Brad Pitt Is Mellow, Yellow and Ready for the Beach!
Brad Pitt was head to toe in yellow terry cloth on the set of a Japanese cell phone commercial in France yesterday. He looked silly to be sure but that grin shows the humor of his outfit isn't lost on him — gotta love the matching hat and too short pants. Sticking to funny is wise since his recent foray into goofiness for Burn After Reading earned him good reviews and a No. 1 opening weekend. None of the kids came along this time and we haven't seen Angelina at all recently leading to lots of rumors about the end of the Jolie-Pitts, which have been denied by their reps. All seems business as usual since they've been so busy with their charitable donations together and hopefully the family W Magazine spread shot by Brad out soon will put to rest the split stories.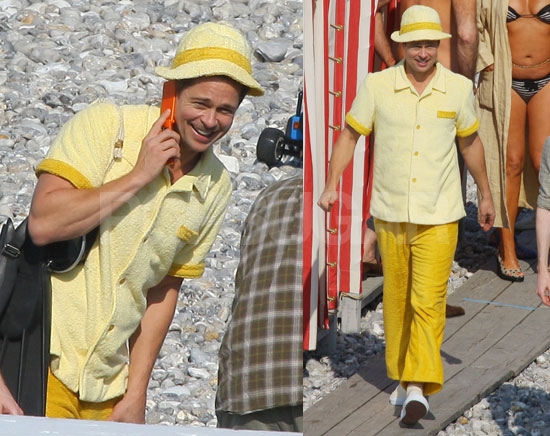 To see more of Brad in yellow just read more.