Brad Pitt Moneyball Red Carpet Quotes
Brad Pitt Reveals Why Maddox Rejected a Bat From Derek Jeter!
Baseball was on the mind when Brad Pitt stepped out for the Moneyball premiere in Oakland last night. While Brad says he's not an avid follower of the game himself, he does have a soft spot for the A's after making the movie, and he does have a fan in the family: Maddox. On yesterday's red carpet, Brad told a funny story about a recent trip to Yankees stadium with Mad and why he loves the underdog themes of Moneyball: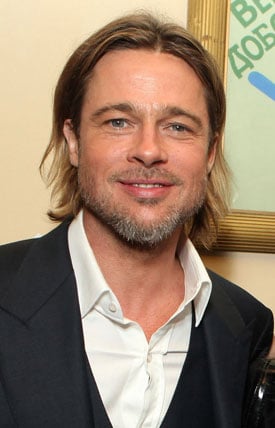 On playing Billy Beane: "Well one, you know, he's not a boring individual. You know, very charismatic, witty, sharp, funny guy, so there was a lot to, a lot to play with. Being here is really special for us because the fans were so great, they came out and stayed up with us all night for weeks on end to re-create these games, and I think this was a special time as well for the city that the film portrays so, I hope people will be pleased, I see it as a love letter to Oakland."
On loving the underdog story: "Well I think it makes it more universal. There's a lot of big themes in here as far as how we place our value of success and failure, how we wear that ourselves, questioning why we do things every day. It's complex stuff. I find it inspiring."
On his kids being baseball fans: "My son [Maddox] is, except we went to a Yankees game and we were sitting next to the dugout and Jeter offered him a cracked bat and he looked at it and goes, 'It's broken!'"