Brad Pitt's Statement About Angelina's Double Mastectomy
Brad's Statement on Angelina: "All I Want Is For Her to Have a Long and Healthy Life"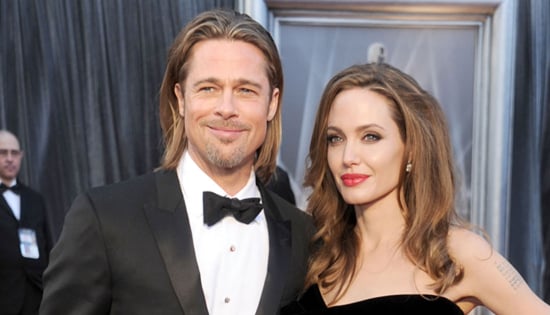 Brad Pitt has made a statement of his own following his fiancée Angelina Jolie's decision to undergo a double mastectomy. Angelina's article about the procedure was published in today's New York Times, and Brad released a few moving words of his own to UK newspaper The Evening Standard. Brad said:
"Having witnessed this decision firsthand, I find Angie's choice, as well as so many others like her, absolutely heroic. I thank our medical team for their care and focus. All I want for is for her to have a long and healthy life, with myself and our children. This is a happy day for our family."
Angelina, whose decision was prompted by the results of a genetic test and her mother's death from ovarian cancer at age 56, underwent the double mastectomy over the course of this year in LA. Angelina wrote of Brad's unwavering support in the Times, commenting, "I am fortunate to have a partner, Brad Pitt, who is so loving and supportive. . . . Brad was at the Pink Lotus Breast Center, where I was treated, for every minute of the surgeries. We managed to find moments to laugh together. We knew this was the right thing to do for our family and that it would bring us closer. And it has."