Brad Pitt at the Telluride Film Festival 2013
Brad Pitt Hits the Stage With Michael Fassbender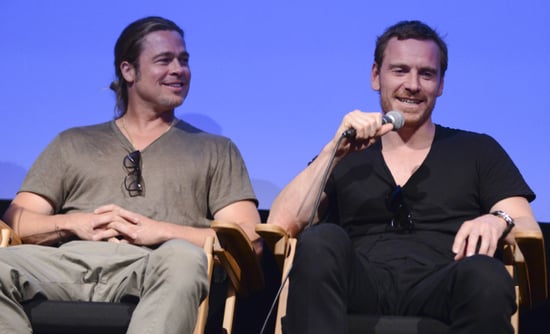 Brad Pitt made a surprise appearance at the Telluride Film Festival for a screening of his movie 12 Years a Slave on Friday. Rumors of a possible Brad appearance had swirled earlier that day, and sure enough, he joined his costar Michael Fassbender onstage to participate in a Q&A session after the screening. "First of all, I've seen this film a couple of times now and I find it a little difficult to speak afterwards," Brad said, adding, "It might be more productive if we just had a group walk around the block."
His emotional response is understandable — the powerful 12 Years a Slave trailer shows moving clips from the film, which tells the true story of Solomon Northup (Chiwetel Ejiofor), a free man living in New York who's kidnapped and sold into slavery. Chiwetel and Michael, who stars as a slave owner in the film, also attended the film festival screening, where the audience gave a standing ovation as the credits rolled.
See more pictures of Brad and Michael at the film festival after the break.