Brad Pitt Wants to Work With Angelina Jolie Again
Brad Says of Working With Angelina, "Why Aren't We Doing Everything Together?"
Brad Pitt made the promotional rounds at Cannes to chat up his new movie The Tree of Life. He's one of the producers on the film and ended up handling a lot of the interviewing because the director, Terrence Malick, is notoriously shy about the press. Brad Pitt and Angelina Jolie sparkled at the film's premiere earlier this week, shortly after Brad rose early for a photo op and chatted up the project at a press conference. He also made time for a few exclusive chats, opening up at one about his decision to have a large family, what he's best at cooking for the kids, and his desire to work with Angelina again after Mr. and Mrs. Smith. Brad Pitt told the AP: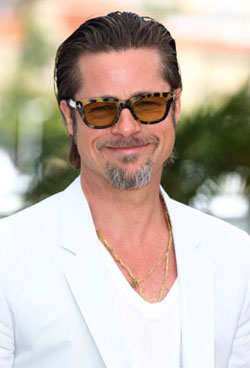 On the size of his and Angelina's family: "I know it seems extreme from the outside, but I've always kind of operated this way. When I know, I know, and why mess around? . . . I had a friend who had a big family when I was a kid. I just loved the chaos around the breakfast table and the fighting and the ribbing, and the mom making pancakes for everyone or the dad making pancakes. And I just decided then if I was ever going to do it — this left some indelible mark on me — if I was ever going to do it, that's the way I was going to do it."
On what he's best at cooking: "Breakfast is pretty much my specialty. And barbecue."
On considering his film legacy for his kids: "I think my focus before was more irreverence, by nature. I'm a dad now. It's more important to me that if I'm going to do the film, there's something I can bring to it, it's not generic. And most of all, I'm painfully aware that my kids are going to see these when they're older, and I want them to understand something about their dad, and I want them to be proud of their dad."
On doing a film with Angelina: "We're not ones to repeat ourselves, but we'd like to, because right now, we're hopscotching with films so one can be with the kids and one's free to work. And why aren't we doing them together? Why aren't we doing everything together?"