Brad and Angie may be sneaking away without the kids but wherever they go the cameras follow. In fact, even when they are gone the cameras are around. Brad's people are confirming that there has been some trespassing on his Hollywood Hills property. They are pressing charges against E! who claims that it was all a big mistake. Here's more: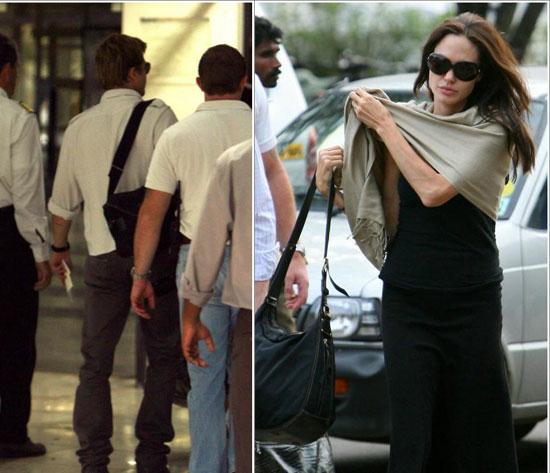 "Yes, we have filed trespassing charges against E! and are exploring our legal options against both the crew that actually trespassed and the network itself," his rep tells PEOPLE.

The cable network, meanwhile, is denying any intentional wrongdoing. "E! Networks is investigating allegations that a producer and cameraman who were filming locations for a program about Brad Pitt went onto property last week that is reportedly owned by Mr. Pitt," according to a statement from the cable channel.

"E! Networks did not instruct or authorize anyone working on its program to improperly intrude onto private property, and the individuals involved have been terminated. While neither Mr. Pitt nor his family were at the property when the incident took place, the network in no way condones or encourages such behavior and would like to offer its most sincere apologies to Mr. Pitt and his family."
More pics of Brad and Angelina being followed by the cameras in Pune so read more