Bradley Cooper Interview in GQ Magazine | January 2014
Bradley Cooper Has a Sweet First Memory With Jennifer Garner
Bradley Cooper may be at the top of his game now, but it hasn't always been an easy road for the American Hustle star. In the January issue of GQ, he opens up about how drugs and alcohol almost sabotaged his life and rediscovering himself. While most are familiar with Bradley's work in the aforementioned films and The Hangover trilogy, he actually had his big break on TV, starring on Alias alongside Jennifer Garner. His first interaction with Jen? She asked him, "Do you want a cookie?" If that's not sweet, we don't know what is.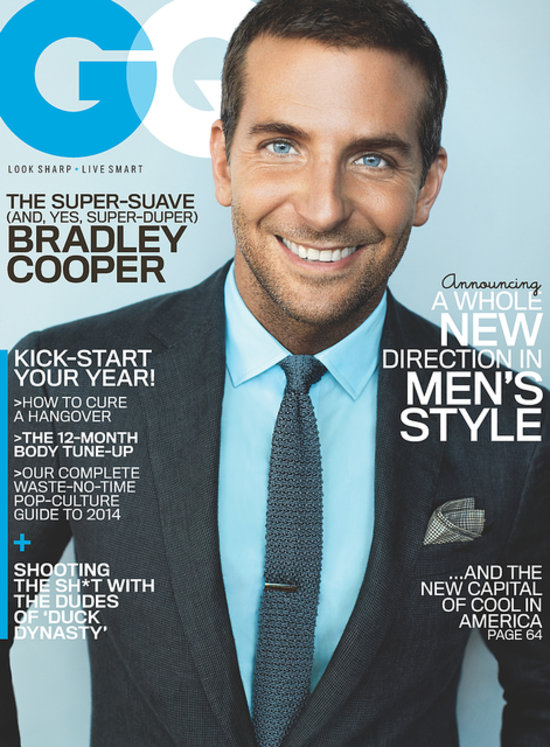 However, after feeling "sidelined" on the show, he asked to be written off — "He probably would have fired me anyway," he says of creator J.J. Abrams — and moved on to bigger and better things. In 2005, that meant finally getting sober since "work was getting f**ed up" during that time. Bradley told GQ, "If I continued it, I was really going to sabotage my whole life." From there, he worked with Sandra Bullock in About Steve, which he says was the first time he was able to be himself and have people still want to work with him. "I was rediscovering myself in this workplace, and it was wonderful."
And contrary to popular belief, Bradley isn't a frat boy. American Hustle costar Amy Adams explains, "I've just never seen him as a frat boy. I understand how people could perceive that. But he's a very soulful person, a very open person. I think that people can mistake a sort of laid-back quality for that frat thing."