Bradley Cooper Interview at Oscars Luncheon
Bradley Cooper Jokes He "Wasn't Up Here For The Hangover" at Oscars Luncheon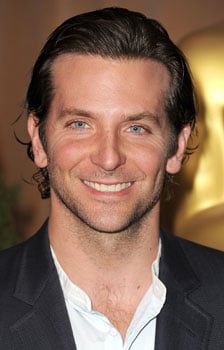 Bradley Cooper came to the Oscars luncheon today to talk about his nomination for Silver Linings Playbook, and he got serious when describing how he got into character for Pat, his mentally afflicted onscreen alter ego. However, the first-time nominee lightened the mood when he talked about his previous acting credits and how they weren't quite Oscar worthy.
On preparing to play a man with bipolar disorder: "It started with David [O. Russell], really. It's a very personal story for him, and he did it because of his son. I hung out with his son quite a bit, and his friends, and they were very open with me about spending time [together]. I have a couple of close friends of mine who are diagnosed bipolar, that unbeknownst to them, I studied [laughs]. And then a lot of other stuff, but that was where I sort of found his heart, Pat. That was the real challenge, figuring out really for me, how one processes information. That's the difference. Neurologically, what pathway the information travels through, to comprehend his emotion. That was the key for me to play Pat. Why is it that he is caught in a loop emotionally about something? There has to be a logic to that. It really was almost mathematically figuring out that logic. And then once I was able to figure out the logic, then I could come in and live. It was fascinating to do that, and challenging, but very gratifying. Because once the neuro pathway was found, then he could become very much alive."
On working with Chris Tucker: "Chris Tucker is incredible. I was a huge fan of his — people, I don't know if they're aware of Jackie Brown and The Fifth Element and Dead Presidents, but he's an incredible actor, in addition to being such a great comedian. I was over the moon to work with him. David, he just picked two people that worked together. The minute I met [Tucker], I knew it was going to be easy. I believed that we were friends for quite a long time. You have to believe that these guys have spent every day all day together in the hospital. That was a lot of fun; we just started going on this riff about his haircut in the car, and editing the movie, just figuring out how to tonally make those shifts between drama and comedy occur at almost breakneck speed. It was essential so it doesn't get too dark."
On whether this nomination is a game changer for his career: "Well, I know I wasn't up here for Hangover, so maybe."
On enjoying award season and his Oscar day prep: "I'm enjoying every minute of this. It's easy for me because I like people. I think if I didn't like people or had a hard time being around people, it would be different. But this has been incredible. Recently, because of the movie, it's gone so much further than award season. We were in DC, showing this movie to the troops. It was incredible, the response we got. Talk about a silver lining to this movie. I'm sure the day of, I'll be calming my mother down. She still doesn't know what to wear. "