Breaking Bad Series Finale
What Did You Think of the Breaking Bad Finale?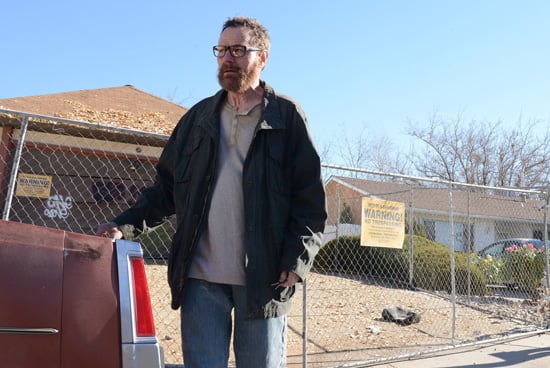 This week marked the final episode of Breaking Bad, and the show made sure that it went out with a bang. There were tons of theories flying around about how the series would end, and as it turns out, a few of the most popular ones actually took place. Keep reading for our take on the episode and sound off on your own feelings about the phenomenal ending to a spectacular show. Warning: if you haven't seen the episode yet, there will be plenty of spoilers!
In the end, a few of the most popular fan theories turned out to be correct — Walt died as the result of a violent showdown with the Nazis, Todd and his crew were killed, Walt helped free Jesse, and Lydia got the ricin treatment through her very particular tea order. Walt also got a chance to make sure that his $9 million would eventually end up going to Walt Jr. by handing it off to Gretchen and Elliott.
The episode was also immensely satisfying in that we got to watch Jesse strangle the life out of his captor, Todd, and we finally got to see Walt admit that he didn't just go into the meth business to help his family. In his final meeting with Skyler, Walt tells her about his illegal activities, "I liked. I was good at it and I was really — I was alive." It was only fitting that Walt spent the final moments of his life checking on the one thing that eventually consumed his life: his meth lab.
What did you think of the Breaking Bad ending? Share your opinion in our poll below.