Britney Back to the Single Life
Britney finally bundled up in NYC but we think she took the pink a bit too far. At least she decided to cover up rather than go out in the freezing cold baring all. OK Magazine is reporting that Britney is a single again. Apparently Isaac broke up with Britney over the phone this weekend after dating for several weeks. Here's more: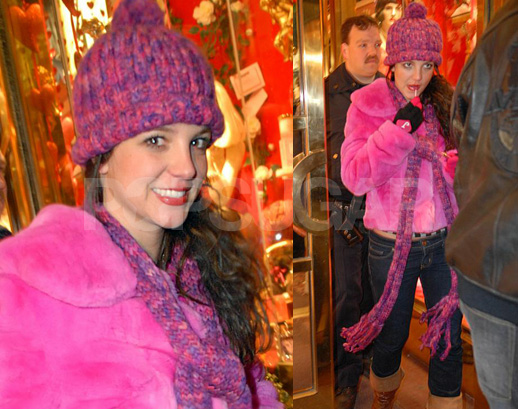 With Britney, 25, in New York on business, Isaac has been staying with friends and caring for Snow White, Britney's teacup Chihuahua.

According to a friend of Isaac, 25, he has been "looking to get out of the relationship for a while.

"It was a bit much for him," the friend tells OK! "There was a lot of drama – it was too much of a whirlwind. It wasn't one thing in particular.

"Her likes her. They had a good time together. He was doing his best to help her out – but there is only so much one person can do."

What's next for Isaac? "Hanging out with the guys and riding his dirt bike," says the friend. "He's focusing on his career – working and going out on castings."
And since the rumors can't stop there, In Touch is claiming that Ms Brit actually prefers the ladies. We've heard this one before as well and we just think everyone loves to make a buck off Britney.