Britney's Back in the Studio
Britney's Back in the Studio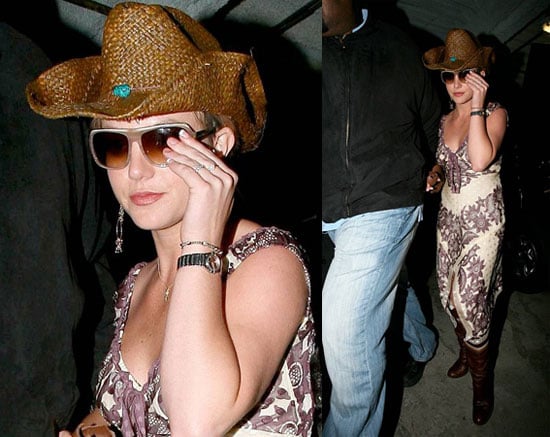 0
Britney's Back in the Studio
Britney went western last night while grabbing dinner at Koi in her typical hat/wig combo and her favorite boots. Quiet dinners on the town are great, but what her fans are really waiting for is her musical come back. Apparently it's in the works. Producer Sean Garrett has been working with Britney since before her stay in rehab and says the music full of fun dance tracks is coming together really well. Here's more:
"I'm working with Britney," Garrett told PEOPLE on Saturday at the Kids' Choice Awards. "It's really coming together right now. I know she'll do exceptionally well now that she's out of rehab."

Garrett, who has produced tracks for Beyoncé, Jennifer Lopez and Mary J. Blige, among others, had been working with Spears on five songs for her upcoming album before she checked into Malibu's Promises treatment center on Feb. 20. The sound on the new disk, he told PEOPLE Saturday, "is like 'Toxic' times 10. It's going to be a lot of fun and it's really exciting. We did a lot of great work before her break."

Garrett also said he has no doubt Spears will emerge from her recent experience stronger than ever. "Britney is a superstar," he said. "She definitely knows how to handle herself, but it's tough sometimes. The pressure sometimes gets to you, but I think she has done such a great job keeping her composure under the circumstances."
Looks like all the recent dance classes she's been attending are whipping her back into shape. We can't wait to see her first entertaining music video to be released. May I suggest a little Dorff?