Britney kicked Kevin to the curb (or more like left him behind to cancel gigs and to try hard to stay relevant in Miami) while she hit Las Vegas. Brit took the trip with her former manager Larry Rudolph. Besides girls gone wild with Paris, she was also spotted flirting with Mario Lopez. Oh no - say it isn't so. That would just be such a horrible pairing, but not as bad as her and Paris. People reports: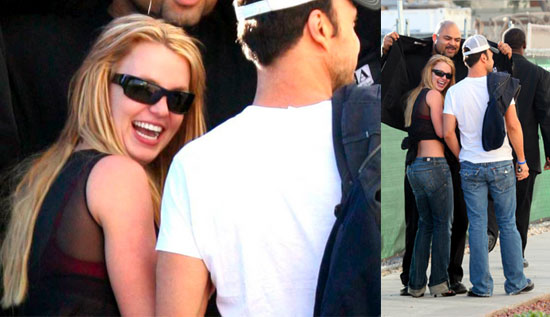 "She looks and sounds great," a source tells PEOPLE. "Her voice never sounded better. She's having fun. She's ready to kick a--."

Britney also did pretty well at the tables, gambling at The Mint, the Palms' high-limit lounge. There, Britney – wearing a short, black dress – caught a lucky streak, raking in $10,000 in winnings from blackjack.

She also was introduced to Mario Lopez at The Mint. The two, along with a small group, then headed up to Moon Nightclub and partied the night away.
More pics of Brit smiling for the cameras so read more