Britney is Missing, But The Rumors Are Not!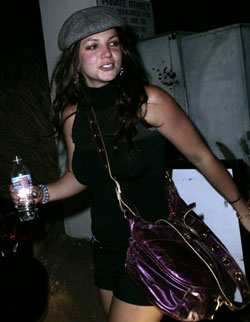 Britney is missing! Kidding, but really, having not seen the pop tart since she showed off her natural short hair this weekend, I'm beginning to wonder where she is. She's not one to miss multiple nights in a row out at the clubs. In her wake, there are enough rumors to keep her in the news. The biggest story is that Justin wrote a duet for himself and Britney but she backed out of it at the last minute, much to her record label's chagrin. I'm still loathe to believe that JT would want to work with Brit again considering he washed his hands of that years ago, but if there is any truth to this story, ugh, so not smart of her.
Meanwhile, Us Weekly is saying that Criss Angel is just using Brit for press. And possibly using hypnotism. Seriously. First of all, duh to him being a publicity whore. Second of all, yuck to all of it.
Finally, Life & Style caught up with the erstwhile pop star after a night at a club (shocker) over the weekend where she had this to say, "My babies are my life. I love them more than anything." She also revealed this to the magazine, "I love my fans, I really do. They're so sweet to me." As for what's next in the saga of Britney Spears? Honestly, who knows.