Britney's New Guy
Britney's New Guy
Britney is still hitting the town, and here she is out in West Hollywood leaving dinner. Since splitting with Kevin, Britney has not been lonely. Between hanging with her manager, kissing JR Rotem, and now she seems to have a new man. Britney has been hanging out with model-actor, Isaac Cohen. Don't worry, supposedly he's not trying to date Britney just to get famous. People reports: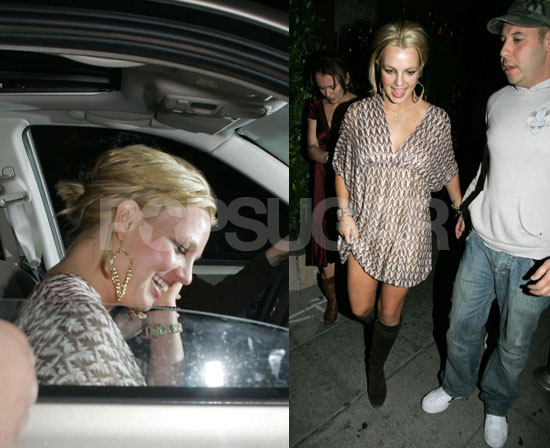 Cohen "is not a player," his agent at L.A. Models, Brandi Lord, tells PEOPLE. "He's got a great heart and a good family, and he was raised well. He's a gentleman."

He's clearly a fresh face on Britney's hectic social scene, where BFFs come and go (au revoir, Paris); just last month Spears was spotted kissing music producer J.R. Rotem.

Zooming into 2007 in much the same way she closed out 2006, Spears, 25, has been moving full speed ahead: partying in L.A. and jetting to Sanctuary Camelback Mountain Resort and Spa in Paradise Valley, Ariz., where she stayed in a $4,000 per night rental house.

As for Cohen, Lord says that his relationship with Spears began "recently ... within the past month." The L.A.-area native "is not out to get a name for himself," says Lord. "He's not just a pretty boy."
It would be nice if she found herself a man who cares but it must be hard when you're Britney Spears. At least it looks like she may have bought some new clothes during her trip to Barneys. For more pics of Ms Brit just read more