Britney Opts for Club Over Runway
Ever the Fashion Week delinquent, Britney skipped out on her scheduled Tuesday night appearance at the Heatherette show to party at Marquee instead. Contrary to what clubbing often entails for the pop star, Brit "demanded all alcohol be kept far away from her." She still managed to look trashed, however, and even made out with a stranger by the end of the night. Page Six reports: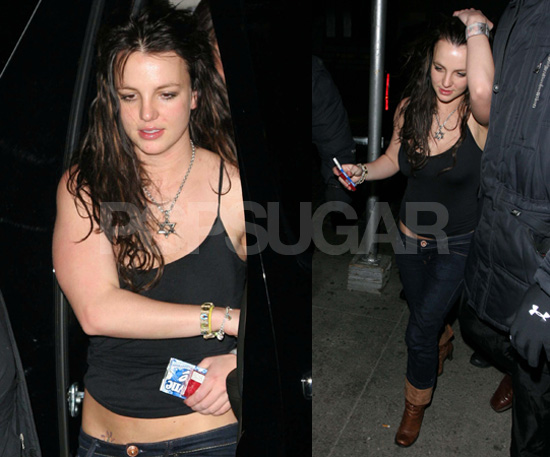 "She must have been drinking secretly in the bathroom," said one. "Because she was falling all over the place. She was also chomping on lollipops from the bathroom all night. And she didn't leave any money for the bathroom attendant."

Spears' wild night continued at club Tenjune, where she was seen arriving at 2:30 a.m. with a group of friends. "Britney was completely hammered," said a witness.

Again, the tank top-clad party girl asked that no alcohol be put on the table - but clubgoers saw her dancing on the banquettes and "drinking what looked like vodka and O.J."

A source told Page Six that one of the people who followed her from Marquee to Tenjune (described as "a scruffy-looking guy") was "hitting on her all night, but she wouldn't even look at him.

"Then a model guy came to her table and she started making out with him." Spears ended her night with a visit to McDonald's.
Oh Britney, Britney, Britney. Whatever are we going to do with you? As for why she skipped out on her scheduled appearance, R&M reports that Brit Brit did make it to the Heatherette show but never actually came in from the parking lot. They think she was avoiding Paris, who ended up a no show as well.