Britney's Rocky Moment
Britney's Rocky Moment
Lately we've all been wondering just what Britney is thinking. She's been acting out of control, drinking, smoking, and literally running around half-naked. After she apologized for her behavior on her website, we thought the old Britney could be back. But, apparently she is still spiraling downward, and she doesn't seem to care. Check out the latest pics of Britney leaving Dolce after dinner last night. Apparently, she also hit Les Deux and stayed out until 2:30 AM. However, her manager Larry Rudolph, says she is not as oblivious as she appears. Here's highlights: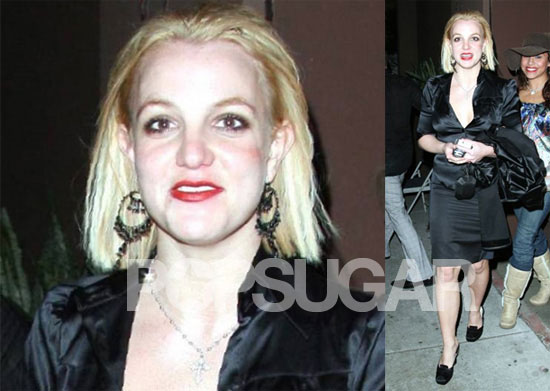 "She understands what's going on right now, and she calls it her 'rocky moment,' " says Spears' manager, Larry Rudolph. "Britney knows exactly what she needs to do."
Rudolph concedes that Spears, 25, has acted out in ways to fuel negative publicity. "I'm not defending it, and she's not defending it." But many of the tabloid reports, he says, are either untrue or exaggerated. When she nodded off during an appearance at a Las Vegas nightclub New Year's Eve, he was getting calls asking which hospital she was in. "We were sitting there drinking orange juice. She got tired in a club, and we took her back to her room. Suddenly, I'm hearing words like 'collapsed' and 'passed out.' "
From a fan's perspective, "from what they've been seeing and hearing, I understand the disappointment," Rudolph says. "But Britney is increasingly motivated to get out there. She sees this as a challenge, that some fans may be questioning her. She is respectful. She sees this as her challenge to win them back."
Hopefully, Britney can win us all back since we are starting to seriously lose faith in the Britney brand. She has definitely hit an all time low with her look last night. At least she ditched the extensions.