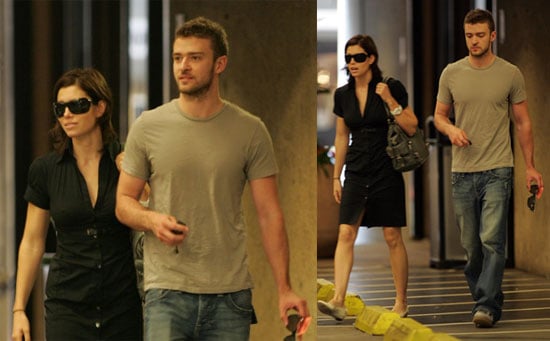 0
Britney Ruined Her Second Chance With Justin
Jessica Biel may have stayed in hiding during the VMAs, but she was back by Justin's side and escorting him to the doctor yesterday in LA. JT had to cancel two of shows this week due to being hungover voice strain, but he looks pretty well-rested now. Even if Justin is ready to get back onstage, don't expect Britney to be joining him anytime soon. While Timbaland has admitted that there was once a chance of a JT/Britney collaboration, apparently Brit crushed that possibility with her cocky behavior. Timbaland said,
The super-producer told MTV News during VMA weekend that a prospective team-up between the two would be "the best thing that ever happened" and would "help her out a whole lot." But he then dismissed the possibility, saying in so many words that Brit has become big-headed and had dissed him and Justin. "It'll never happen. Nah. It could've, but it won't."

"She needs a story. She has no comeback story. That's the problem. She has to have a team. She needs to come back with Justin doing records; [then we'd see headlines like,] 'She went back to her ex and she's making smashes.' [But instead she got] so big-headed and [was] like, 'Screw you, screw you, I don't need nobody.' "

"She should humble herself and make a phone call and say, 'I'm sorry.' She knows what she's sorry about," Tim said. "She needs to say, 'I was wrong,' and it'll definitely move forward. ... That's all she has to say."
Britney's never been one to be known as humble but perhaps this is the time for her to start making amends. How amazing would a JT/Britney reunion have been (yes we admit sometimes we are still living in the year 2000)?