Britney may seem to be letting Paris call the shots, but the truth is, Britney is in control of what she wants. No one in her camp wants to piss her off so they're letting her run wild. Brit has been spending time with Paris, Lindsay and even Brandon Davis. Last night she was out with her backup dancers and tour choreographer. While we would hope they were working, it looks like the group went to Area to party with Paris & LL. And don't think we're going to see an end to Britney's partying anytime soon. Sources say those close to Brit are afraid to give her any advice because they're all on her payroll. TMZ reports: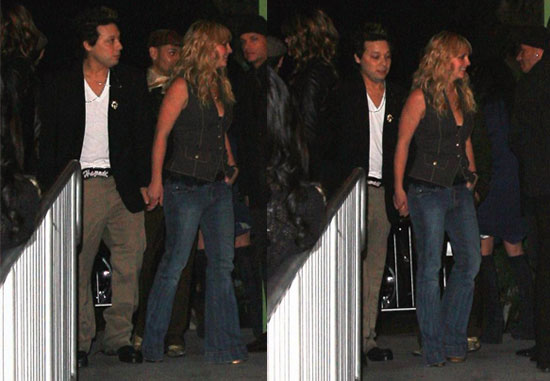 The problem is, anyone who might be close enough to tell the 24-year-old Britney to get things in order (and put on some panties) is also on the Britster's gravy train, so they don't want to bite the hand that feeds them, we're told. Her mother Lynne, who's being supported by her daughter, has all but given up trying to get Brit to shape up and calm down, and can't even get in touch with her. And her father Jamie has always stayed mainly in the shadows. What's more, few people outside the family appear have much sway with Britney – except, by the look of things, Paris Hilton.

Believe it or not, it seems that the Fed-Ex may actually have been at least a steadying influence on Britney, even though he's hardly a paragon of upright citizenship himself. Ultimately, says one source close to the family, "The only person that can stop Britney is Britney."
Apparently JT was at Area last night also. I wonder if there were any dance offs.