We went to bed last night hearing that Britney Spears had shaved her head. We hoped it was not true. Now we clearly can see not only has she shaved her hair (herself I might add), but she has gotten additional tattoos. OK we get it. She doesn't want to be the cute pop tart star we all fell in love with but can someone please help the girl already. Seriously, this is rock bottom. She was out of it and all the information available still sounds shady. Checking in and out of rehab in a day, flying coach alone from Miami to LAX - seriously, the girl never flies coach and now this shaving of the head. We hear your cries Britney. Loud and clear. Now if only you would let someone help you.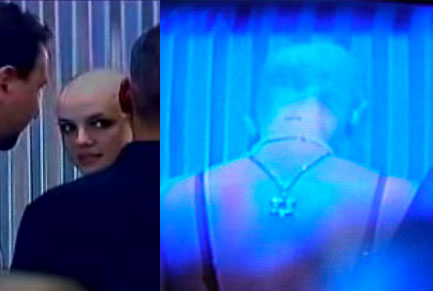 Watch the video below where the girl describes Britney is distraught, disturbed and sick of it all. Poor Brit.
x17 Online has even more pics of Britney actually shaving her head herself. They are seriously disturbing. Obviously Britney has yet to learn that something this drastic is not going to make the world stop watching her. Instead she is making more headlines than before. Maybe she'll leave us a message on her website sometime soon. Stay tuned for Britney's breakdown/makeover/who knows what coming next.