Britney Spears Bikini Photos With Sean Preston, Jayden James and Jason Trawick in Australia
Bikini Wearing Britney Explores Sydney With Jason, SP and JJ
Britney Spears finished up her three nights of shows in Melbourne before heading off to Sydney where she spent the weekend with her boys. She'll be performing in the city all week, and it looks like they're still finding some time for fun Down Under. On Sunday, she and her boyfriend Jason Trawick brought Jayden James and Sean Preston on a cruise around the harbor where Brit showed off her bikini body. When it got a little too chilly for her two piece, Brit slipped on Jason's shirt and took some photos of the three guys. She was laughing and smiling the whole day, looking like quite the little family out on the water.
On Saturday, the foursome spent their time on dry land including a walk around the Sydney Botanical Gardens. Britney and Jason posed for a picture with the boys in their strollers. Kevin Federline is supposedly on his way to join Britney for the second half of her Australian tour which continues through the end of the month. Last year Britney spent Thanksgiving performing in Germany and this time she'll be overseas once again but at least surrounded by her loved ones. You can stay up to date on all the latest Spears news with her new "It's Britney!" iPhone app, which just jumped to the third most popular spot on iTunes.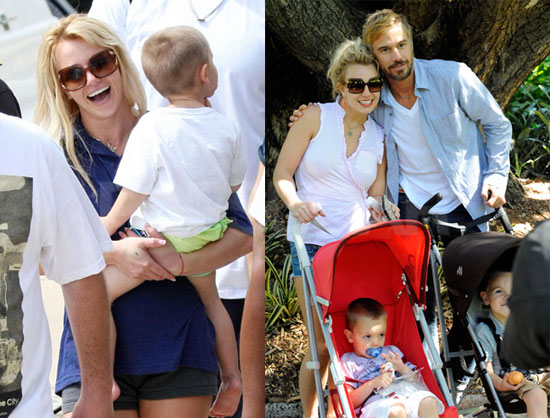 To see LOTS more of Britney and her boys just
.