Britney Spears in InStyle January 2014
Britney's Wish List Includes "a Mini Me" and "Mom Friends"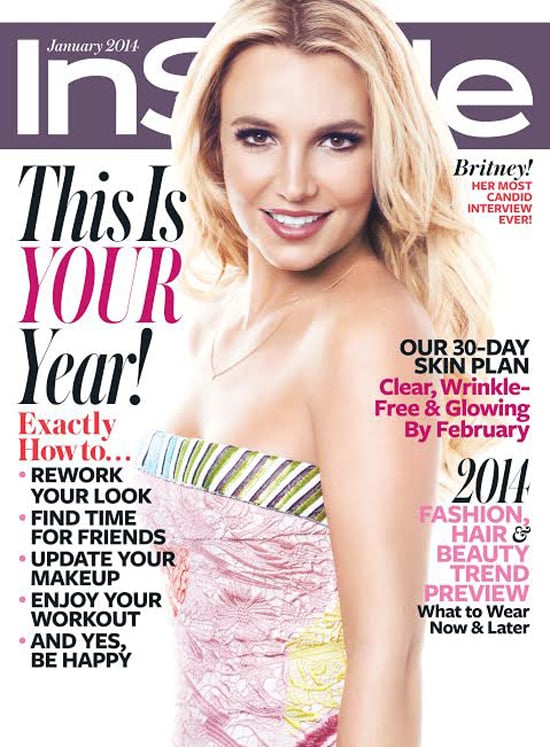 Britney Spears looks gorgeous in Dior on the January cover of InStyle, which hits newsstands on Dec. 13. In the midst of celebrating her 32nd birthday, upcoming Las Vegas residency, and the release of her eighth studio album, Britney Jean, the pop superstar sat down for a very candid interview, touching on everything from being a mom to her plans for the future (hint: they involve having more kids) and getting "fun stuff" done to her famous face. She also touted the benefits of pregnancy sex and expressed sympathy for Kim Kardashian, saying, "Bless her heart." Read on for quotes from Britney Spears in InStyle:
On her skin care regimen: "I have no problem trying new brands. A doctor I see, [Beverly Hills plastic surgeon] Dr. [Raj] Kanodia, does fun stuff to me sometimes — I've had lip injections before. He has this peptide-based face-care product; it's green and slimy, and you mix it together and put it on your face. It does wonders. You leave it on overnight. Can you tell I love skin care?"
On the most challenging part of being a parent: "As a mom, you have all these situations you go through, and you're like, 'What is going on? Is this normal? Is this a phase? Or what is this?' And then you feel silly for asking questions because you think, 'I'm a mom; I'm supposed to know these things,' but you don't. You're human. To be honest, I wish I had more mom friends."
On Kim Kardashian being criticized while she was pregnant: "I was like, 'Bless her heart,' because I remember that time. . . . That should be the time when your body is most treasured. I loved being pregnant for so many reasons, not to mention the sex is awesome then."
On her five-year plan: "I would like to be busy the first couple of years, but then I would really like to have another baby, a girl. I think she would be like a mini me. I think it's going to be crazy. I'm not going to feel as alone in the world anymore. I'm going to feel like I have a second person, like, that's me."