Britney Spears on Ryan Gosling in Stylist Magazine
Britney Spears on Fellow Mousketeer Ryan Gosling's Certain "Something"
Britney Spears is on the cover of the UK magazine Stylist's new issue. Inside the edition, Britney spoke about her new fragrance as well as her family, tour, and past. She did the interview while in England on her Femme Fatale tour, and has since moved on to South America. She's wrapping up the tail end of her travels over the next month before returning home to the US for Christmas. Britney shared with Stylist about what her LA home is like, her favorite artists, and gave an especially cute quote about her fellow former Mouseketeer Ryan Gosling — turns out Brit's a fan, too! She said: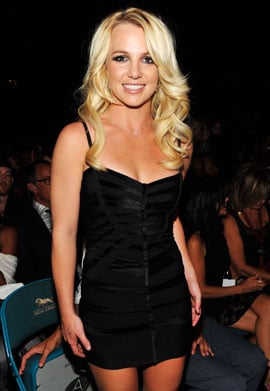 On what her home in LA is like: "My house is very traditional. And I love 'shabby chic.' It's a very homey-cozy vibe. We spend a lot of time in the kitchen actually; maybe my kids will be doing their homework or that kind of thing when they get home from school. I love my kitchen."
On her dream vacation: "It would be with my children, of course, and my boyfriend Jason [Trawick], and really that's it. We'd probably just go skiing somewhere really beautiful and have hot chocolate, in a cabin . . . "
On the success of her fellow Mouseketeer Ryan Gosling: "Oh, I'm a huge fan; I think he's amazing. I think he's a wonderful little actor. He definitely has that 'something' on film, on camera, which is really cool. So I'm very happy for him."
On what she listens to before taking the stage: "Well, I usually listen to a lot of hip-hop in my dressing room when I'm getting ready to go on stage, so Jay-Z a lot recently. And a lot of rock stuff like Aerosmith. That really gets me going and pumps me up. And then, of course, there's Jessie J and Adele."